After World War II, two young combat veterans began providing our Nation's military heroes with new vehicles at exclusive prices and program safeguards through Military Autosource (MAS), formerly Exchange New Car Sales. On a journey that started with a local Dodge dealership near the Brooklyn Navy Yard, these two veterans built their company on military values. In the 1960's MAS became the exclusive on-base retailer when the U.S. Congress authorized the AAFES/NEXCOM program. Military AutoSource honored over 50 years of partnership with the U.S. Military and the Army and Air Force Exchange System (AAFES) by awarding Commanders a "50 Year Partnership Award" and a $2,000 donation for their base.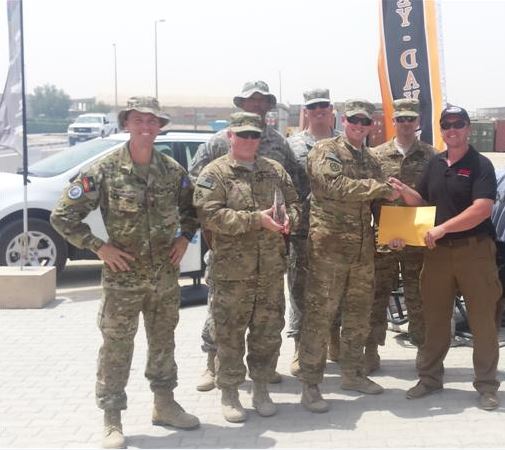 In May, Military Appreciation Month, Military AutoSource began hosting award ceremonies at 12 overseas base locations, all chosen for their outstanding partnership in providing active overseas military and their families with support through the MAS military car buying program. The Partnership Award is presented to Commanders at overseas U.S. Military bases around the world, in conjunction with the grand openings of the rebranded Military AutoSource locations. Military AutoSource presented a $2,000 check to each recipient, along with their award, to be put towards the on-base program of their choosing. Events were held at Camp Arifjan, USAG Vicenza, USAG Grafenwoher, and Yokosuka Naval Base, future events are scheduled for Aviano Air Base, Bagram Airfield, Osan Air Base, Royal Air Force Lakenheath, and four other locations worldwide.
Working with the military and its ever-evolving landscape, MAS has adapted its products and programs over the years, to satisfy the changing needs of customers, and continue to provide a car buying experience based on military values. From Vietnam, to the Gulf War, to present day Afghanistan, MAS has been there for our military, traveling into war zones to ensure our troops are provided with the privileges and benefits that they deserve. Recently, MAS rebranded their on-base division, Exchange New Car Sales, to synch with their off-base division, Military AutoSource, to make the car research and buying process more convenient for customers. Throughout it all, Military AutoSource's strong relationship with AAFES has been the pillar that has allowed MAS to provide this exclusive car-buying experience to our deserving heroes.
Military AutoSource is proud to give back to the military community they service. A portion of all proceeds from vehicles sold overseas are returned directly to the military community. Military AutoSource also supports Morale, Welfare, and Recreation (MWR) by providing activities and events aimed to build a positive and strong community for our military members. During Military Appreciation Month, MAS launched a contest giving away a free year of gas to ten military families. The contest, which runs through July, is called "The Freedom to Drive…For Free". Military members and their families can enter by sharing stories and photos about their greatest driving and road trip experiences, describing how it built friendships, family bonds and endless memories. The contest promotes the same values on which Military AutoSource was founded on many years ago, by two young hopeful veterans.