Are you, or a family member or friend, deploying on a military tour of duty? Preparing for your deployment can be a stressful and emotional time. It is important to have all of your affairs in order before deploying to help make the transition easier for you and your family.
Military AutoSource created the Pre-Deployment Checklist to help military personnel and their family organize their affairs before deployment. The checklist covers legal affairs, home maintenance, finances, medical and automobile care.
Be Prepared and Plan Ahead
Many topics should be addressed during this process. The Pre-Deployment Checklist covers over 50 to-do items to be aware of, including:
Update contact information on your service record in case of emergency.
Make a list of important email addresses to take with you
Change air conditioning and heat filters in your home
Provide a list of warranties on household appliances
Place your vehicle title and insurance papers in a safe place
Notify your credit card companies that you will be deployed
Click below to get your complete version of the Military Pre-Deployment Checklist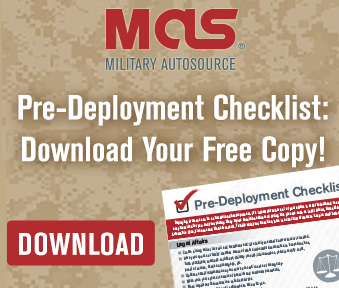 The team at Military AutoSource would like to thank you for your service to our country.