On the Fourth of July, Military AutoSource (MAS) hosted the final event for Operation Riding Freedom in Bagram, Afghanistan where we presented LTC Stouffer with the grand prize, a Harley-Davidson Street 750.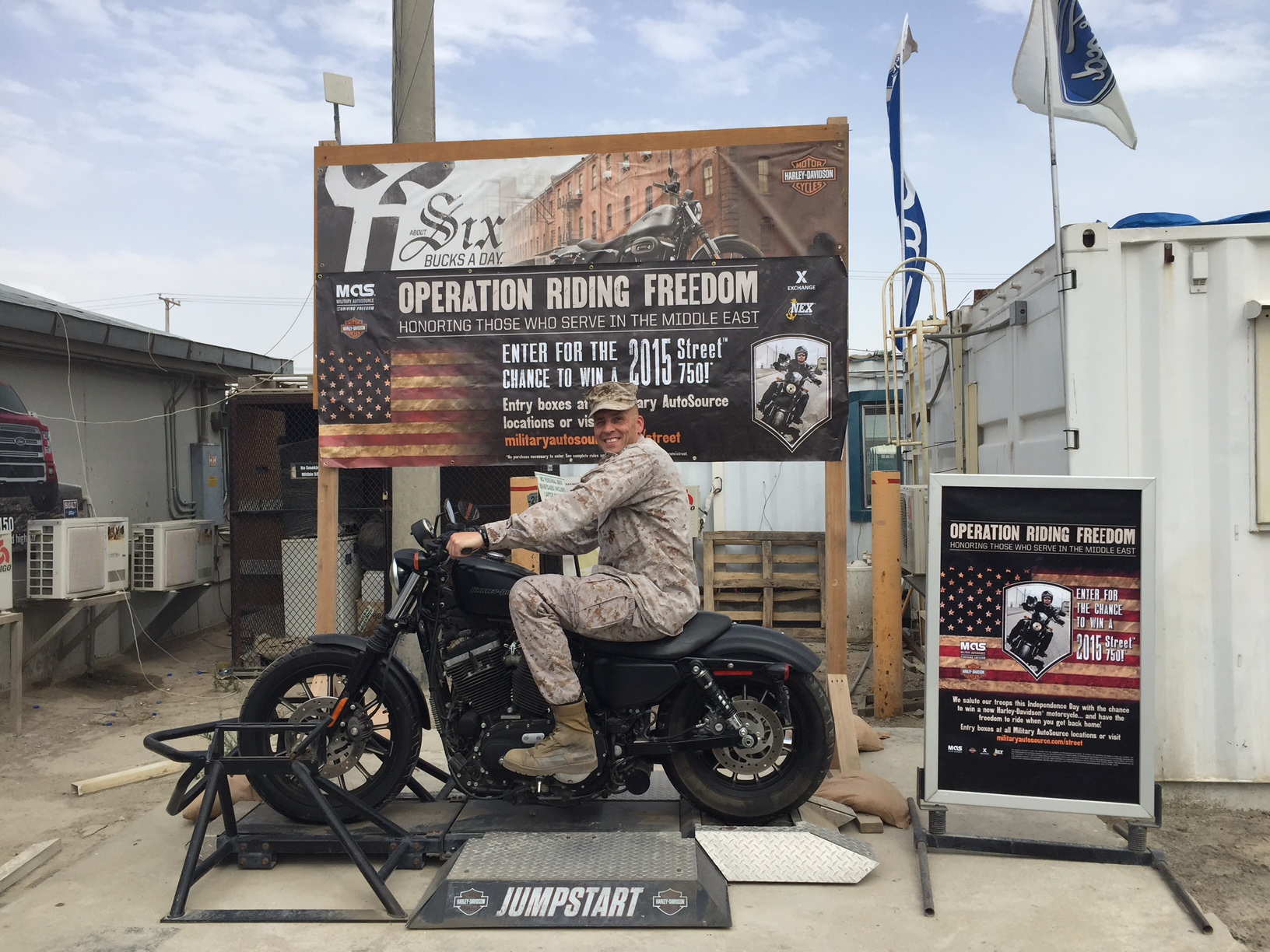 As the factory-authorized overseas military dealer for Harley-Davidson, MAS is always looking for ways to honor and celebrate U.S. Military members serving overseas with giveaways and Morale, Welfare, and Recreation (MWR) events. The Operation Riding Freedom event brought together the community with the exciting chance to win a brand-new bike.
There were many activities to keep the troops busy while waiting for the big announcement of who won the Harley-Davidson,including Corn Hole, a Photo Booth,Fireman Challenge, Nerf Gun Booth and more. With over 3,000 entries into the drawing, there were lots of eager attendees waiting to hear who won.
The lucky winner of the Harley-Davidson Street 750 was LTC Stouffer, who has been an officer in the Marine Corps for almost 20 years. LTC Stouffer was on his third tour in the Middle East, and just weeks away from heading home when he learned he won the giveaway.
I was definitely in a state of disbelief.  I was only [in] Bagram for a couple of days and just decided to fill out the drawing sheet the week before the drawing.  I had pretty much forgotten about the contest and did not believe the [Sales Manager] when he called me to tell me I had won!

While LTC Stouffer has been a bike owner in the past, this is his first time owning a Harley-Davidson. Now that he is stateside, when asked what he plans to do with his new Harley, he remarked that he is just "enjoying the experience". An experience well deserved!
We spoke with the Lieutenant Colonel about how MWR events, such as Operation Riding Freedom, boost moral for the military personnel stationed in the Middle East. And while LTC Stouffer has never personally known a winner before him, he shares that just having the chance to win is a great atmosphere for troops to enjoy.
Congratulations to LTC Stouffer! We hope you enjoy many great rides on your new Harley-Davidson Street 750.