Looking for a good excuse to be late to work? Follow our list of "10 Ways to Ensure Your Car Doesn't Make it Through Summer" and you'll be sure to find yourself stranded on the side of the road at least once this year.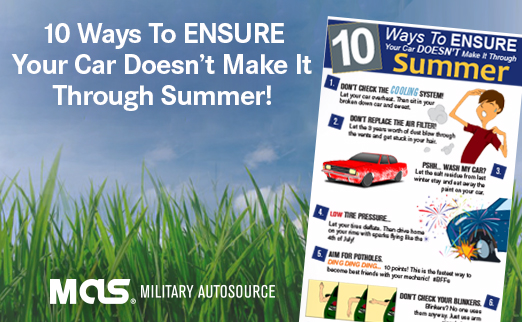 (HINT: Do the opposite of EVERYTHING in this infographic and your vehicle will be running like magic.)

Military AutoSource is the overseas distributor of vehicles to active duty U.S. Military stationed abroad. For over 50 years, we have provided our customers with a program that offers direct access to the widest range of factory military programs available to active duty military, civilian, DOD employees, and members of the diplomatic community stationed outside the United States. Our program offers U.S. Military overseas exclusive savings and benefits not available anywhere else. We are the exclusive on-base, factory-authorized distributor for American-made Chrysler, Dodge, Jeep, Ram, Ford, Lincoln, and Harley-Davidson vehicles. Our off-base foreign vehicle line-up includes the factory-authorized military programs for U.S. specification Mercedes-Benz, Toyota, Audi, Volkswagen, Honda, Nissan, and Infiniti vehicles.