Interested in riding your Harley-Davidson while stationed in Guam? Then you will need to get your Guam motorcycle permit!
Independent Sales Representative, Joe Learned from Military AutoSource Guam, made a video explaining the steps for how to get your motorcycle permit in Guam.
Watch below to learn what documents and paperwork you'll need, where to go to apply, and what day of the week you can take your motorcycle permit test.
Military AutoSource created a step-by-step guide on how to get your Guam Motorcycle Permit and License.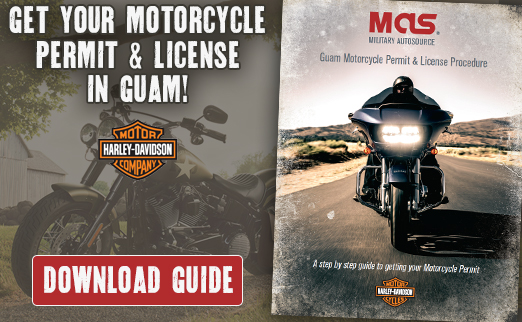 The free guide contains information on permit and license procedures, and a study guide to help you pass your motorcycle permit test. The Guam permit test is known for being difficult, so we created a four-page study guide with 87 points to study before going in to take your test.
The guide also contains information on making your appointment, including contact information, as well as how to find your test results online.
Military AutoSource offers local delivery to U.S. Military members stationed in Guam. If you choose to have your motorcycle delivered to your Guam location, you will need to pass the Guam Motorcycle Permit test in order to ride your bike.
Interested in ordering a Harley-Davidson for Guam delivery? Military AutoSource offers exclusive military benefits to U.S. Military members stationed overseas. Choose from local stock or custom order your Harley-Davidson to your exact specifications. For more information and to speak with a representative, visit www.militaryautosource.com/Harley-Davidson.