Win Big for the Holidays
at Military AutoSource Wiesbaden Off-Base!
It's the season of giving, so we're giving away awesome prizes at Military AutoSource Wiesbaden – all you have to do is show up!
Keep your prize for yourself (you deserve it!) , or give it away as a holiday present – either way you can't lose, because EVERYONE is a winner during Win Big!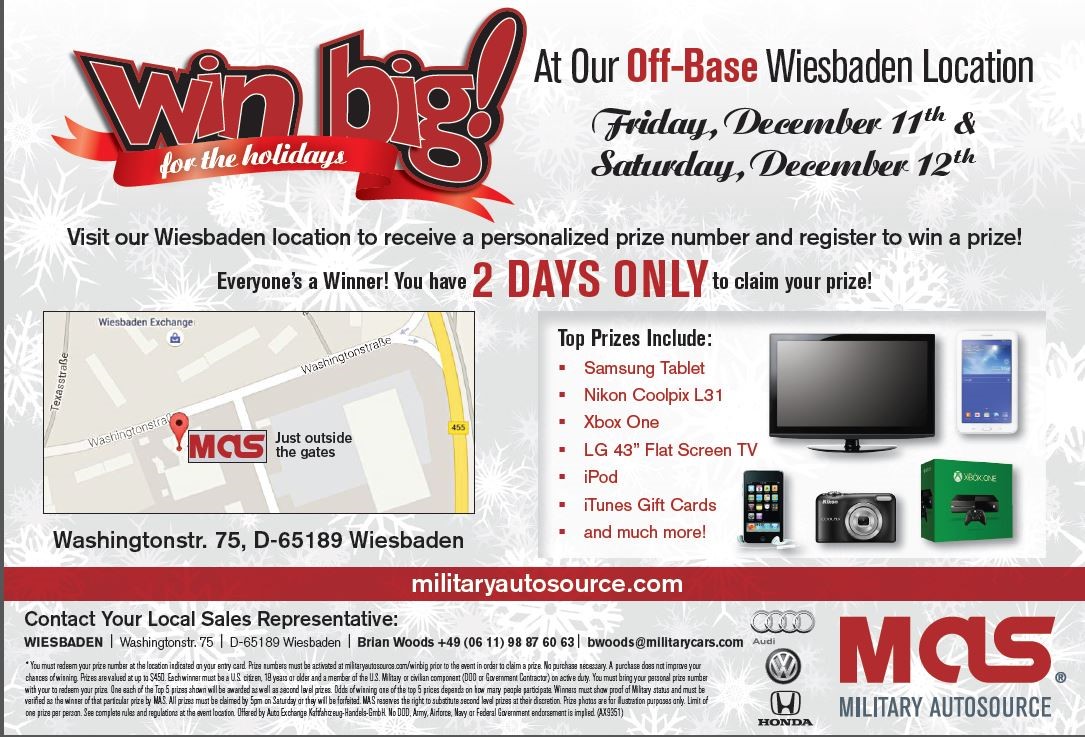 While you're at it, learn about buying a brand-new car using your exclusive U.S Military benefits! Purchase an Audi, Honda, Mercedes-Benz, Toyota or Volkswagen with privileged military pricing and take local delivery in Europe, or have it waiting for you when you return home stateside!
Military AutoSource Wiesbaden
Washingtonstr. 75
D-65189 Wiesbaden
Germany
Get Directions
Disclaimer: * You must redeem your prize number at the location indicated on your entry card. Prize numbers must be activated at militaryautosource.com/winbig prior to the event in order to claim a prize. No purchase necessary. A purchase does not improve your chances of winning. Prizes are valued at up to $450. Each winner must be a U.S. citizen, 18 years or older and a member of the U.S. Military or civilian component (DOD or Government Contractor) on active duty. You must bring your personal prize number with your to redeem your prize. One each of the Top 5 prizes shown will be awarded as well as second level prizes. Odds of winning one of the top 5 prices depends on how many people participate. Winners must show proof of Military status and must be verified as the winner of that particular prize by MAS. All prizes must be claimed by 5pm on Saturday or they will be forfeited. MAS reserves the right to substitute second level prizes at their discretion. Prize photos are for illustration purposes only. Limit of one prize per person. See complete rules and regulations at the event location. Offered by Auto Exchange Kaftfahrzeug-Handels-GmbH. No DOD, Army, Airforce, Navy or Federal Government endorsement is implied.