The 2016 Honda Civic was named the 'Overall Best Buy of the Year' by Kelley Blue Book, raising the bar for compact cars.
Honda had a strong year at the 2016 Kelley Blue Book Best Buy Awards, taking home top honors in multiple categories including 'Overall Winner'.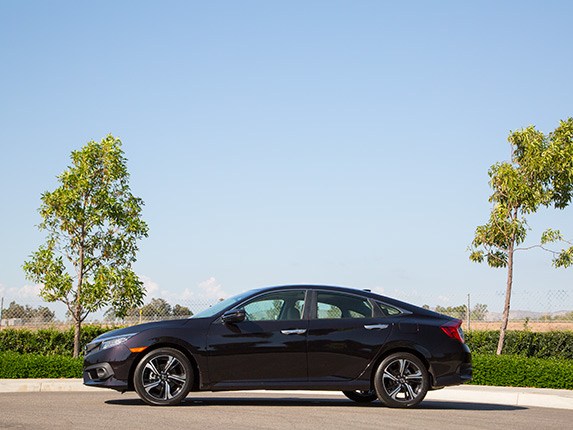 The Honda Civic impressed Kelley Blue Book judges with its attention to detail, high quality interior materials, and turbocharged engine.
"The completely redesigned 10th-generation Civic has raised the bar for compact cars in general to a new level. Not only is the new Civic larger than the model it replaces, stretching the wheelbase, length and width by one to three inches, it's also lighter and more fuel efficient." – KBB.Com Editors
Another reason for this sedan's win? Value. The Honda Civic base model starts below $20,000. Honda has a reputation for producing quality, reliable cars that maintain a high resale value. The Civic is always a top finisher in the annual KBB.com 5 Year Cost to Own Awards.
2016 Kelley Blue Book Best Buy Award Winners: Honda
Overall Winner: 2016 Honda Civic
Small Car: 2016 Honda Civic
Small SUV/Crossover: 2016 Honda CR-V
Mid-Size SUV/Crossover: 2016 Honda Pilot
Minivan: 2016 Honda Odyssey