Military AutoSource hosted their annual St Patrick's Day bike giveaway, where SPC Enriquez won the grand prize, a 2016 Harley-Davidson® Street™ 750 motorcycle.
On March 17th at Camp Buehring in Kuwait, service members gathered together to celebrate St. Patrick's Day with food, drinks, and games. As the celebration drew to a close, the attendees waited anxiously for the main event, the announcement of the 2016 Harley-Davidson® Street™ 750 giveaway winner.
At 19:00, the crowd gathered to learn that SPC Enriquez was the lucky winner of the brand-new bike.
"I'm more shocked I won than anything," shared SPC Enriquez, "Since I've won the Harley-Davidson giveaway, there [have] been a lot of soldiers asking me to give them lottery numbers."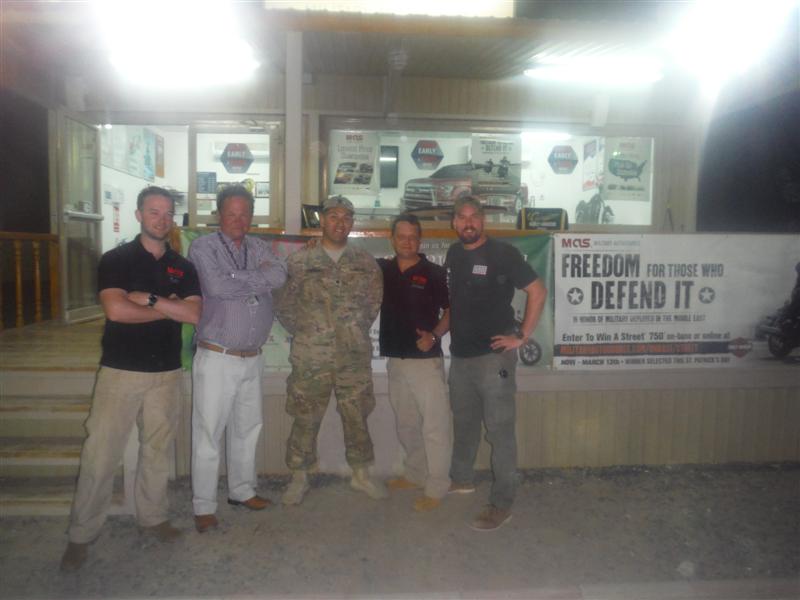 SPC Enriquez has been in the military for over six years; this was his first deployment overseas. It was while walking through the PX one day that he came across Military AutoSource, which as he explained, made him think about his daughter who will soon be driving herself. It was then that he saw the drawing to win a Harley-Davidson.
"I didn't think I would ever win, but I took the time to fill one out anyways," said SPC Enriquez, "I completely forgot about filling out a raffle for a Harley Davidson bike."
SPC Enriquez plans to take riding lessons from his father-in-law, a Harley-Davidson rider, when he returns home. He is thankful for the excitement that winning has brought to his time overseas, telling Military AutoSource that "It's made my deployment exciting and I'm happy I came".
For over ten years, Military AutoSource has hosted the St. Patrick's Day Harley-Davidson giveaway, which is exclusive for U.S. military members stationed in the Middle East. In recent years, Military AutoSource has given away over 20 bikes to deserving members. In March, the company partnered with Subway to giveaway a 2016 Harley-Davidson Street 750 to a service member in Djibouti.
RELATED: Marine Corps Officer Wins Harley-Davidson Street 750 From Military AutoSource
At Military AutoSource, giving back to the military community is a companywide goal. Throughout the year, MWR events and giveaways are hosted at locations across Europe, the Far East and the Middle East. At the company headquarters in New York, employees work year-round to raise money for military charities. In 2016, Military AutoSource employees are working to raise money for Boots on the Ground NY, a veteran-focused charity.
About Military AutoSource
Military AutoSource (MAS) is a subsidiary of the Overseas Military Sales Corporation (OMSC). For over 50 years, Military AutoSource has been serving the military community by providing U.S. specification automobiles to active duty military, civilian, DOD employees and the diplomatic community stationed outside the United States. We also serve other areas in Kuwait such as Camp Patriot. The on-base division of Military AutoSource, formerly known as Exchange New Car Sales, is authorized by the AAFES/NEXCOM program. You can learn more about Military AutoSource at http://www.militaryautosource.com.