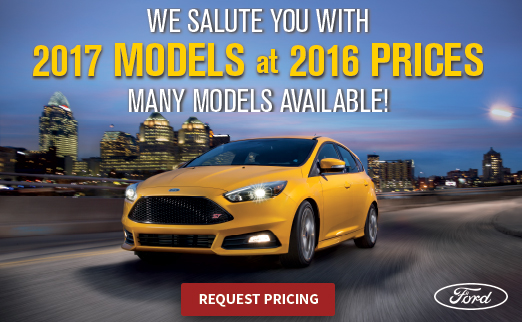 Custom order your new 2017 model at 2016 pricing, with military savings below MSRP!
Right now, U.S. service members stationed overseas can take advantage of this exclusive military offer on the 2017 Ford Edge, Taurus, C-Max Hybrid, Flex, Focus, Fiesta, F-150.
RELATED" Join us at our Military Appreciation Big Finish events around the world….
At Military AutoSource, we offer manufacturer direct pricing below MSRP, which means you can leave the haggling at home. Our Lowest Price Guarantee on all stateside deliveries means you can buy with peace-of-mind knowing you got the best possible deal on your new vehicle.
The exclusive Ford military discounts offered at Military AutoSource are only available to military members while they are stationed or deployed overseas. Order your vehicle overseas below MSRP and take delivery of your vehicle when you return stateside, or locally in Europe, Korea, and Guam.