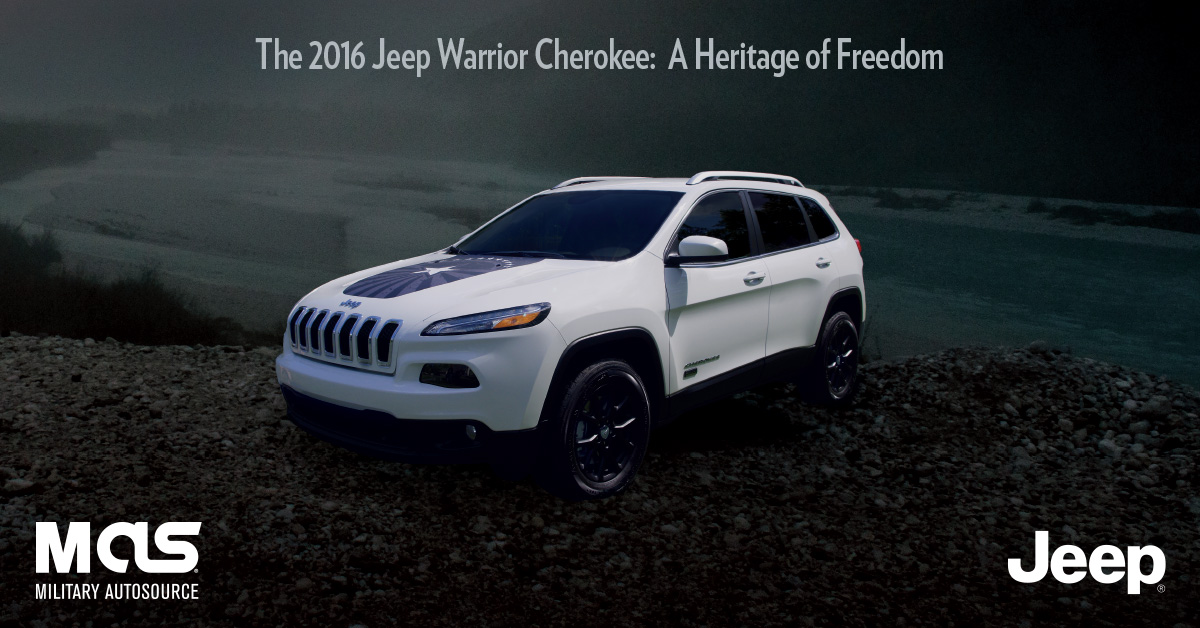 The 2016 Jeep Warrior Cherokee features custom Warrior graphics, powder coated 17-inch aluminum wheels and is available exclusively to U.S. service members overseas.
Military AutoSource continues their special-edition 'Warrior' vehicle program with the introduction of the 2016 Jeep Warrior Cherokee, built exclusively for sale to those serving in and with the U.S. Military on bases overseas.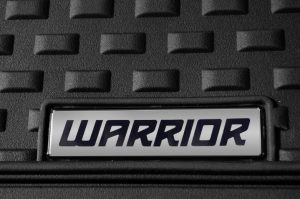 Created from a legacy of patriotism, the Warrior Cherokee proudly wears its stars-and-stripes and stands ready for adventure. Available on the Cherokee Latitude 4X4 and 4X2 models, the Warrior package includes powder coated 17-inch aluminum wheels and a D-Ring 2" Receiver Hitch with Coupler Pin Lock.
The Cherokee features a custom Warrior hood graphic, badging, and floor mats. It is available in three colors; Black, White, and Granite Crystal. To see the full list of features, visit www.militaryautosource.com/JeepWarrior.
"We're always excited to be able to provide our military with exclusive benefits, and our Warrior program is one great example of that," said Stephen Frisch, Senior Vice President, Corporate Retail Operations at Military AutoSource. "There are unique features on our Jeep Warrior Cherokee that are only available from Military AutoSource."
RELATED: Introducing the 2016 Roush Warrior Mustang, exclusively at Military AutoSource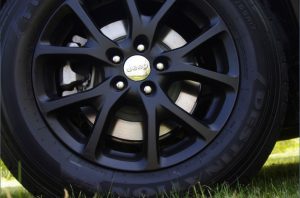 The Warrior Cherokee is the first of three specialty Jeep vehicles produced by Military AutoSource being released in 2016. A limited-edition Jeep Warrior Wrangler and a Jeep Warrior Wrangler 'Charlie Mike' edition will go on sale later in the summer.

Military AutoSource has been serving the overseas military community for over 50 years with exclusive benefits and privileges. In 2011, Military AutoSource created the original 'Oscar Mike' Jeep Wrangler, combining the best of the Rubicon and Sahara models at Sport pricing. In 2013, the company followed up the success of this military exclusive with the introduction of the Ford Warrior Mustang. Military AutoSource partnered with ROUSH Performance in subsequent years to enhance the model, making it a highly sought after vehicle.
Pricing on the 2016 Jeep Warrior Cherokee begins at $31,683 for stateside delivery. Customers can take delivery of the vehicle stateside, or in Europe, South Korea, and Guam. To order the Warrior, eligible customers can visit their overseas on-base Military AutoSource location, or order online at www.militaryautosource.com/JeepWarrior