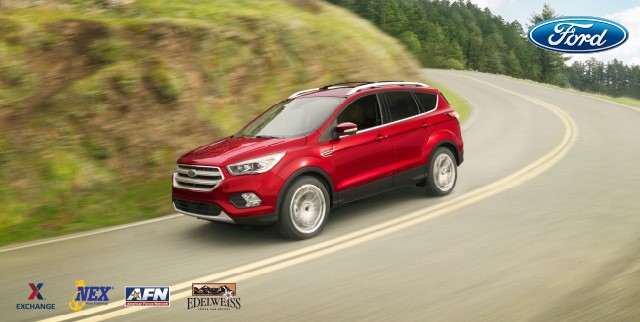 Military AutoSource hosts their annual Ford sweepstakes for U.S. military members stationed in Europe.
The Great Escape sweepstakes began on July 1, 2016, giving United States service members stationed in Europe the chance to win $25,000 towards a Ford vehicle and 5-day vacation for two at the Edelweiss Lodge and Resort. Military AutoSource once again partnered with the Exchange, American Forces Network and Edelweiss Lodge and Resort to host this annual sweepstakes. Entry into the sweepstakes will remain open until September 5, 2016.
Active duty service members in Europe can enter the sweepstakes at www.militaryautosource.com/escape for a chance to win the grand prize. The winner will be announced at The Great Escape final event on October 1, 2016 at Ramstein KMCC. The official sweepstakes rules and regulations can be found on militaryautosource.com.
The $25,000 prize can be applied to the 2016 Ford vehicle of the winner's choosing. They can select from Ford's full line up of coupes, sedans, SUVs, or crossovers. The winner will also be awarded a 5-day vacation to the Edelweiss Lodge and Resort in Garmisch Partenkirchen, a long revered destination in the Bavarian Alps.
Enter The Great Escape sweepstakes now!