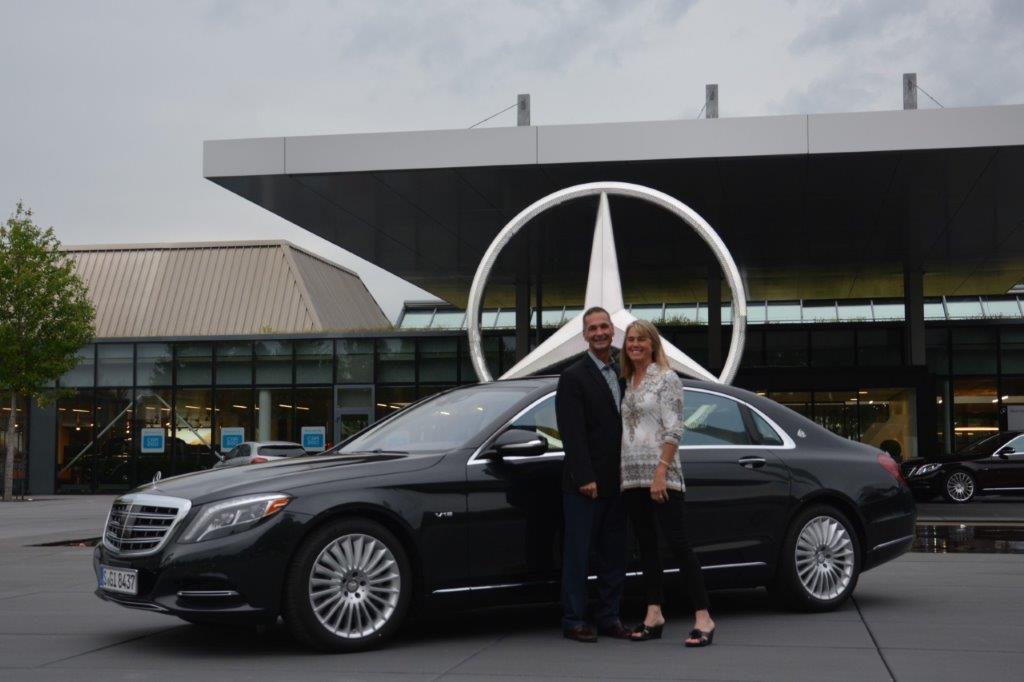 In June, Mr. Holt became the first Military AutoSource customer to take delivery of a 2016 Mercedes-Maybach S600.
Along with his wife, Mr. Holt arrived at the Mercedes-Benz "Center of Excellence" in Stuttgart, Germany to pick up his brand-new vehicle. After a tour of the factory, Mercedes-Benz gave the Holt's a VIP experience, helping them celebrate their 31st wedding anniversary with a special dinner right beside their new Maybach. After the dinner, Mercedes-Benz unveiled the vehicle and presented Mr. Holt with two pristine keyrings inscribed with Mr. Holt's initials.
"This was the experience of a lifetime!" said Mr. Holt when asked about the experience, "Every step of the way was expertly guided, leading to a seamless delivery and a great deal of excitement."
RELATED: The Mercedes-Benz Night Package
The Mercedes-Maybach S600 is an exquisitely designed luxury vehicle with a handcrafted, beautifully finished cabin overflowing with advanced technology. The design of the vehicle is timeless and thoughtful, paying attention to every detail to ensure it is never overwhelming.
After introducing Mercedes-Benz to the Military AutoSource lineup in 2015, the team at Military AutoSource was thrilled to help the Holt's find their dream vehicle.  To learn more about the Mercedes-Benz military program, visit www.militaryautosource.com/Mercedes-Benz.