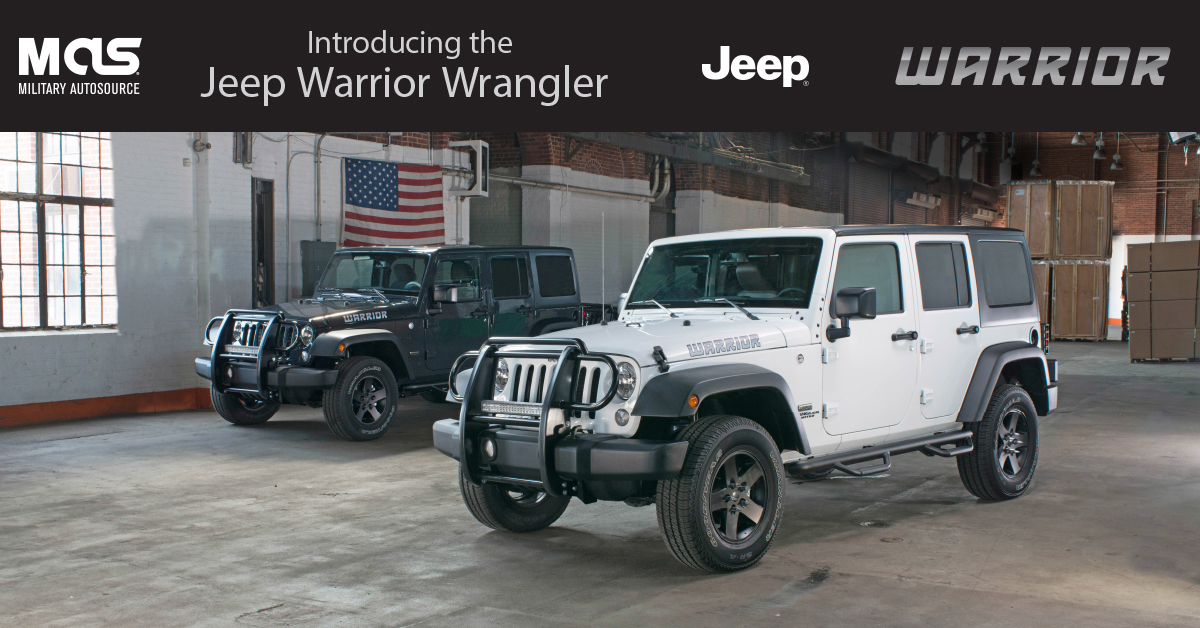 The 2016 Warrior Wrangler Unlimited features a 1.75" lift kit, black powder coated wheels, N-Fab Nerf-Steps and is available exclusively to the U.S. Military Overseas.
After the introduction of the Warrior Cherokee in June, Military AutoSource is excited to roll out their next special-edition Warrior model, the 2016 Jeep Warrior Wrangler Unlimited. The Warrior Wrangler Unlimited is available exclusively for sale at Military AutoSource to those serving in the United States Military on bases overseas.
The Warrior Wrangler has battle in its genes and adventure in its bones. Rooted in tradition that began in 1941, the Warrior Wrangler is no stranger to the trenches; whether on the battlefield or the off-road terrain. The limited-edition Warrior Wrangler Unlimited celebrates the true American hero with legendary 4X4 capability, custom warrior badging, and a design made for adventure.
The Warrior package is available on the Jeep Wrangler Unlimited Sport 4×4 and comes in three colors; Black, White, and Rhino. The Warrior Package features include:
Pro Comp 1.75″ Coil Spacer Leveling Kit
Black Powder Coated Wheels
N-Fab Nerf-Steps
CREE 20″ Light Bar
Aires Automotive Grill Guard in Black
Rear Euro Style Tail Light Guard
Drake Off Road Billet 6-Speed Shift Knob (manual transmission)
Drake Pistol Shift Knob (automatic transmission)
Tire Tread Arm Pad
Front and Rear Tire Print Slush Mats
Spike Lug Nuts
Custom Warrior Badging
Custom Warrior Tire Cover
To see the full list of features, visit: www.militaryautosource.com/JeepWarriorWrangler.
Pricing on the 2016 Jeep Warrior Wrangler Unlimited begins at $39,994 for stateside delivery. Customers can take delivery of the vehicle stateside, or in Europe, South Korea, and Guam. To order the Warrior, eligible customers can visit their overseas on-base Military AutoSource location, or order online at www.militaryautosource.com/JeepWarriorWrangler.