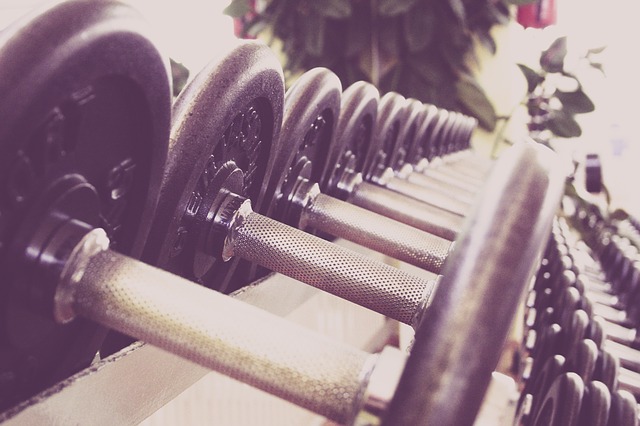 In this month's edition of Mission Muscle, guest fitness blogger Linton McClain talks about resetting your 'fitness focus' after summer.

Military AutoSource and Dodge bring you Mission Muscle – keeping MUSCLE FITNESS and MUSCLE CARS top of mind by offering fitness tips and military savings! Click to learn if you're eligible to receive exclusive overseas military discounts on top Dodge muscle cars, including the Charger and Challenger.
---
The "RESET" Button
By Linton McClain
Personal Trainer, Superior Body Sculpting
What was your most memorable part of the summer? Was it spending quality time with family? Going on a vacation? Maybe it was visiting a new city while being stationed overseas. As many of us have been enjoying ourselves, we know that it's time to get back to business. We may have lost our fitness focus a bit during the summer but we can recover with a little discipline and commitment. This sounds like the perfect time to reset the routine.
Resetting the Work Routine
During the summer season our routine tends to change drastically. Kids are out of school, then they are going back to school. Traffic patterns change. Co-workers are more distracted with balancing life changes. With all that said, your exercise routine suffers as a result of the changes in your schedule and environment. It is difficult to stick to a routine when everything around you seems to be out of balance. On the other hand, when you fix your routine you will notice that everyone and everything in your circle functions better.
RELATED: Mission Muscle | Creatures of Habit 
What are some ways you can reset your current routine? Start by writing out your ideal routine and schedule. List all tasks. Next, write out what's currently happening in your routine and schedule. Being honest with yourself is the key component. Finally, once you have both of these items, start with the first item on both lists and make plans. Learn to be patient with your ability to adjust. You can't rush change. Enjoy the process and learn from every moment.
Resetting the Training Routine
As you are getting back into your routine you may notice that your body isn't responding the same way. Exercises and motions don't feel the same as they once did. Having a good exercise routine works heavily in your favor. Exercise transforms the mind, body, and your ability to perform. Your body reaches it's peak performance when you are in a well-balanced routine. The body can adapt flawlessly with proper conditioning, exercise, rest, and nutrition. Unfortunately, maintaining a routine without interruption is highly unlikely. Your ability to be realistic about your current conditioning can help or hurt you when trying to start or maintain an exercise routine.
Implementing a "proper" exercise routine can prove to be difficult as an active duty military member. Conditions are constantly changing. Adjustments are increasingly difficult. Inevitably, these times of distraction will affect your strength and stamina. Without a doubt, both strength and stamina deteriorate when you fall off your routine for a few weeks. Knowing that, it would be wise to know if it's necessary to take a step back in your intensity or approach before you take a step forward. The best exercise routine is not the most difficult one. The best exercise routine is the one that fits your current situation best.
RELATED: Mission Muscle | Super Solider 
Every military member needs to be able to pass his or her PFT. Depending on your current situation, you may need to make a few adjustments. This is your chance to hit the "reset"  button to attain passing results. Your fitness test will consist of push-ups, sit-ups, running, and pull-ups. These are functional exercises. With each exercise, proper conditioning is the key. You and I can both agree that these exercises are not practiced throughout your daily routine. You can change that by resetting your routine. Start early enough and your body will adapt properly.
My recommendation is to start training at least three months prior to your PFT. Start with minimal effort and increase the intensity 10% every week. Start off with pushups (knees down). Do your sit-ups while lowering yourself only to a 45 degree angle.   Walk-Run the distance.   Do curl-ups instead of pull-ups. Over time you will notice the muscle development, stamina, and the  strength of your body improving.  Challenge yourself normally after the 5th  week of consistency.  Continue to push yourself a little bit more each consecutive week and you will be amazed at the results.
Timing is Everything
Our environment is ever changing and we are ever evolving to adapt to those changes. Although necessary, adapting can be a tremendous challenge. Sometimes you just need to reset your routine and start fresh. Having a clear mind and a clear focus helps us in the most challenging times and environments. Adapting to change is part of our job as military members. With that said, fitness is a large part of that process. We are able to maintain a presence in some of the harshest environments because of our physical conditioning. Get back to that level of fitness and you will be able to handle the toughest times in your life. Finish the summer and hit the "RESET" button. If you have any questions about fitness please contact me at www.sbsculptme.com. Be safe.
For more information on health and wellness visit www.sbsculptme.com.