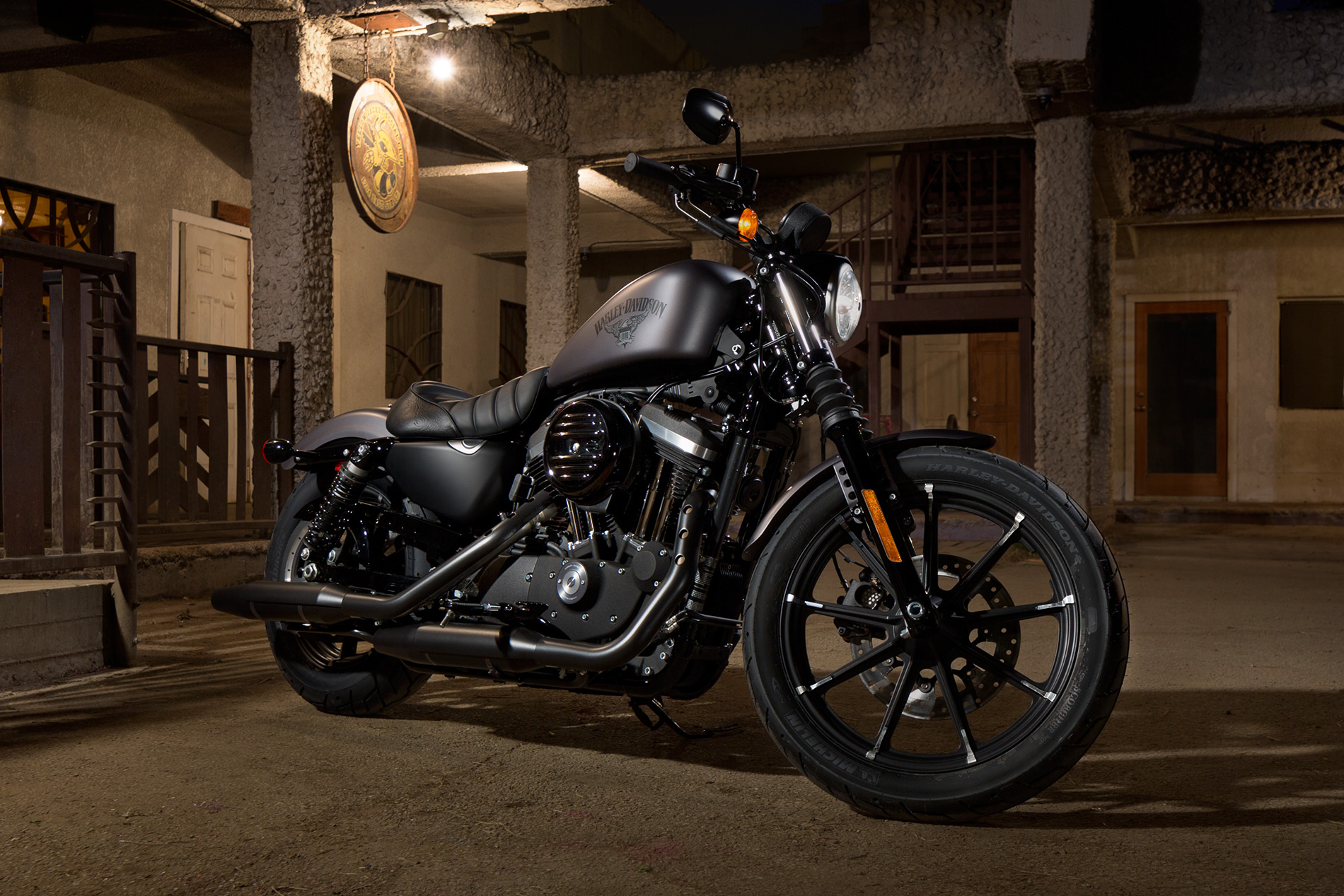 The first Sportster hit the streets in 1957, and today, almost 60 years later, the Harley-Davidson Sportster Iron 883 is more agile than ever.
Design
The classic peanut fuel tank has been a defining feature of the Sportster models for decades, and that's still the case today for the Iron 883. The tank follows the line of the bike from front to back, and angles down perfectly into the seat.
The low-rise, drag-style handlebar is an old-school feature born at the drag strip. It puts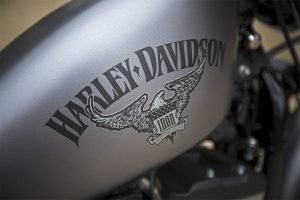 you into a forward, aggressive riding position, ready to take control. The license plate is side-mounted, staying true to the clean, fast lines of the Iron 883, and the bullet hole design details on the belt guard, exhaust header shield and front fender come straight out of this bike's hard-riding past.
Engine
Born from the Shovelhead and Ironhead engines, the Evolution engine has been powering the Sportster motorcycle since 1984. Through years of constant refinements, Harley-Davidson made the engine the powerplant of today.
Blacked-out styling and a throwback round air cleaner cover, stamped out of steel and covered in gloss black show the attention to detail you only find on a Harley-Davidson.
Handling
Throughout the years of the Sportster motorcycle, there have been constant innovations and refinements. The latest innovation includes suspension on every model, with cartridge emulsion rear shocks and a screw adjuster to further dial in the handling. The Iron 883 brings confidence to your ride, no matter where you journey.
Comfort
The engine of the Iron 883 is rubber-mounted to the frame, giving you all the power of the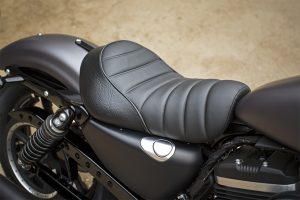 Evolution V-Twin engine, but none of the vibrations. The handlebar and pegs were designed to hit just right, and a wrench comes tucked inside the seat to adjust the rear suspension exactly the way you like it. The tuck and roll seat is inspired by the early days of the bobber, but gives you the modern comfort expected from a Harley-Davidson motorcycle.
Enter for your chance to win the 2017 Harley-Davidson Iron 883
From now until November 20, 2016, U.S. military members stationed or deployed in the Middle East region can enter the Military AutoSource Thanksgiving Day Bike Giveaway. The winner of the giveaway will receive a brand-new 2017 Harley-Davidson Iron 883. Eligible military members can enter for their chance to win by visiting www.militaryautosource.com/Iron883.
The winner of the Thanksgiving Day Bike Giveaway will be announced at the final event held on Thanksgiving Day, November 24, 2016 at Camp Buehring in Kuwait. Event attendees will enjoy a day of activities hosted by Military AutoSource, Base Command, AAFES, and the USO. The final drawing will take place that evening at 1900 hours outside of the PX.