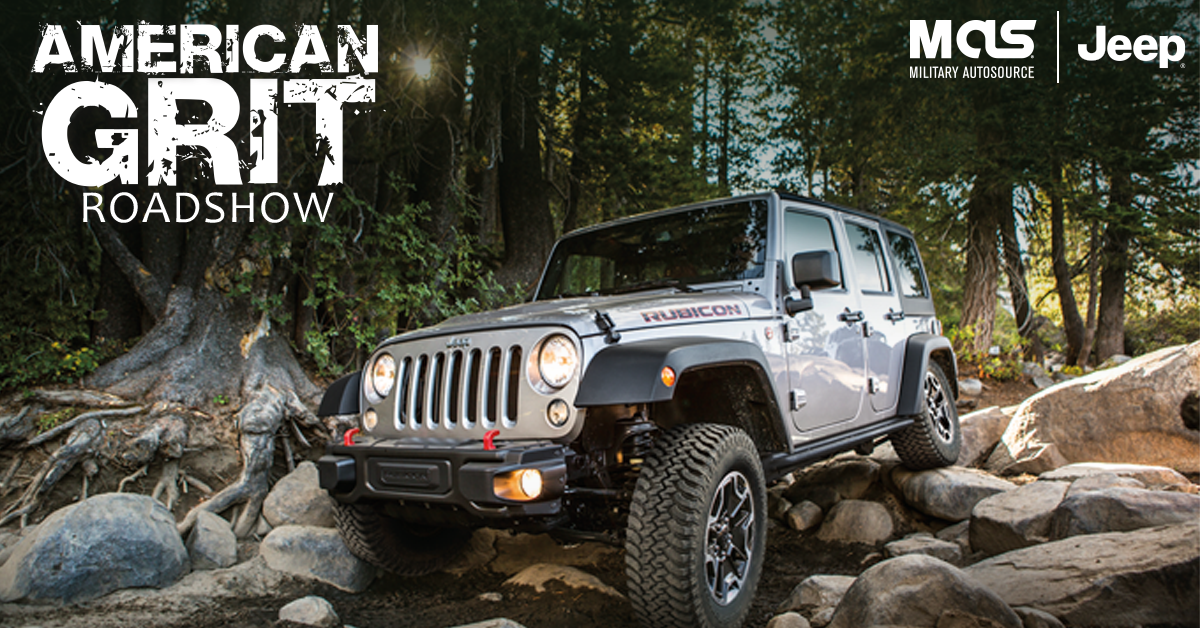 Join us for our American Grit RoadShow touring through Germany, featuring America's grittiest vehicles.  Get your adrenaline pumping with our Jeep lineup! Touring through Germany all summer, the American Grit Roadshow is the perfect opportunity to check out this years top Jeep models! Come see the full lineup including rarely seen specialty models and the all-new Compass.
Featured Vehicles on the Roadshow:
Jeep Cherokee Latitude 4×4
Jeep Grand Cherokee Laredo 4×4
Jeep Wrangler Unlimited Warrior 4WD/4 Door Sport
Jeep Compass Trailhawk 4×4
Jeep Compass Latitude 4×4
RoadShow Stops:
July 14th – July 23rd: Wiesbaden
July 26th – August 6th: Boeblingen
August 9th – August 16th: Ansbach
August 18th – August 27th: Vilseck
August 29th – September 10th: Grafenwöhr
September 14th – September 24th: Spangdahlem
September 26th – October 4th: Baumholder
October 6th – October 18th: Ramstein
All programs and guarantees are subject to terms and conditions. Visit www. militaryautosource.com/onbase or see your Sales Representative for complete details. All illustrations and specifications are to the best of our knowledge correct as of the date of publication. They are subject to changes made by the manufacturer and the laws or regulations of any federal, state or local government agency. Fiat Chrysler automobiles are authorized contractors of the Exchange and NEXCOM. Military AutoSource is an authorized distributor to sell and distribute Chrysler vehicles. This advertisement does not express or imply endorsement by the Exchange, NEXCOM, DOD components, or the Federal Government and is not sponsored by them.