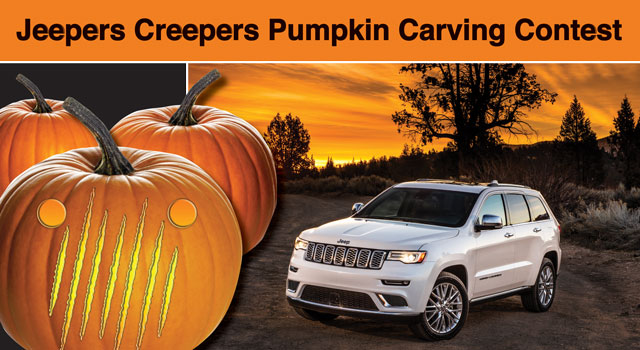 Let the carving begin!
Halloween is almost here, and it's time to get creative with the Military AutoSource
Jeepers Creepers Pumpkin Carving Contest.
Paint or carve your best "Jeepers Creepers" Jeep themed pumpkin for a chance to win a gift card.
Stop by one of these participating Military AutoSource locations to learn more about the contest:
Beligum: Chievres,
Germany: Baumholder, Grafenwoehr, Ramstein, Spangdahlem, Wiesbaden
Italy: Aviano
Japan: Yokosuka
Korea: Osan, Camp Humphreys
Okinawa: Foster, Kadena
Spain: Rota
UK: Lakenheath, Mildenhall
A winner will be selected from each participating location. Good Luck!
Need some help or inspiration! Take a look at some templates below created by All Things Jeep.
Stop by a participating Military AutoSource location for complete contest details. No purchase necessary to enter. Overseas Military Sales Corporation is an authorized contractor of the Exchange and NEXCOM. Military AutoSource is an authorized distributor to sell and distribute Fiat Chrysler Automobiles. This advertisement does not express or imply endorsement by the Exchange, NEXCOM, DOD components or the Federal Government and is not sponsored by them.