Congrats to Senior Airman Joshua Brister and Master Sergeant Amanda Sanchez on being selected as the grand prize winners of a $2,500 Delta gift card in our Operation Fly A Soldier Home Contest. Joshua's and Amanda's heartfelt letters were chosen from 75 submissions.
This one-of-a-kind contest gives our U.S. Military personnel stationed overseas a chance to win a $2,500 Delta gift card to fly home to see family and friends for important events or the holidays after long deployments.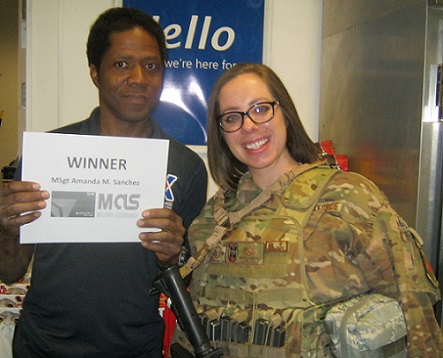 After hearing stories of servicemen and women missing important family events or holidays because of travel expenses Military AutoSource (MAS) in partnership with Ford Motor Company decided to create this contest to help reunite our hard working servicemen and women with friends and family.
We know how expensive it can be to fly home so our mission is to reunite soldiers with their families after long and challenging deployments. Our inspiration is the men and women of our Military who sacrifice everything for us.
We've included their winning submissions below. Hearing these stories highlights what an honor it is for us to give back to the men and women of our armed forces who sacrifice so much for us everyday.
Joshua's letter:
"My wife and I are both from a small town in East Texas and have been stationed here in Germany for almost five years now. Since being stationed over here we have had a daughter. Before joining the Air Force I was raised by my grandparents on my father's side, Nana and Papa, so I became very attached to them seeing as how they were able to keep me out of a very dark path I was headed down before they took me in. So I believe that they really saved my life along with my future. About six months ago my grandfather had a stoke which caused him to fall and fracture his back and my grandmother has been taken care of him. With them both being over 80 it has really taken a toll on her and it shows when talking to her and seeing pictures. My grandfather never really recovered from the stoke and has had brain issues along with walking problems since so he was moved to an assisted living facility. My wife and I have been trying to go home in order for them to see their only biological great grandchild before passing along with their other adopted great grandchild who is now school age (they haven't seen her since before she could walk). However, with the four of us traveling home it is just too expensive to afford on an Airman's pay. I even took a second job in order to try and raise the funds for us to be able to go home this Christmas. Being able to go home would mean the world to them and maybe even help my grandfather feel better. Every time I talk to him on the phone I can tell it makes his day, but it hurts me so much because he will say things that make no since at all and I can tell he is getting worse. My wife and I are preparing for the worst as we fear it is closing in. Hopefully this letter will be enough for us to win in order to make this holiday season one of the best that they have had in a couple years. I know we would be ecstatic to be able to surprise them with their only great grand kids."
Amanda's letter:
"Thank you so much for this awesome opportunity. My name is Amanda. I am a mother of four and currently stationed in Afghanistan for the next year. I work directly with the Afghan Air Force helping them and advising them on how to build a stronger force. I am grateful that I am here and get to meet so many amazing people, but I miss my family tremendously. My husband is back home in Virginia with our three youngest children and our oldest child resides in Mississippi with his biological father. We moved to Virginia two years ago under the false pretense that the hospital would be able to provide services to our oldest child who has bipolar disorder. After moving to Virginia and speaking with the hospital we were told that they did not offer these services for children. The nearest location to provide services was approximately four hours away from our location. We knew it would be difficult to take leave twice a week and have our son miss school twice a week for services so we reached out to his biological father. His biological father found a local hospital that would provide services and accepted our healthcare. We all knew it would be best for him so we moved him to Mississippi. It has been one year since we have been together as a family. It will be two years we haven't been together as a family by the time I return from Afghanistan. I would love to be considered for this giveaway so that I can see ALL of my children. It is expensive having to fly to multiple locations, so it does not happen very often. Winning this would allow me to see all of them, which I would forever be grateful."
We wish Joshua and Amanda a wonderful holiday and reunion with their families and friends. We also look forward to giving more of our servicemen and women another opportunity to win next year!
David Goldring, Chairman and CEO of Overseas Military Sales Corporation summed up the mission of the contest, "Operation Fly a Soldier Home is just one of the small ways we can give back and demonstrate our continued commitment and appreciation to our dedicated, brave and hardworking U.S. military."