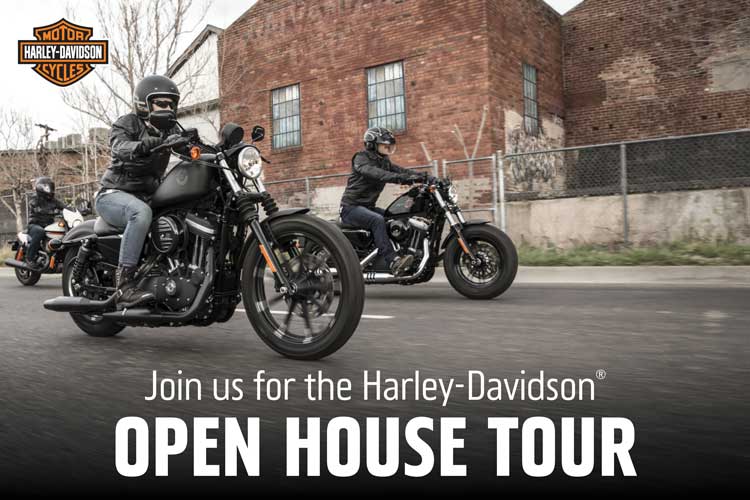 We're touring the latest editions of Harley-Davidson® motorcycles throughout Europe.
Don't miss your chance to see an iconic lineup of bikes coming to a town near you. Our first stop on the tour is Spangdhalem Air Base on February 12th to 14th.  Don't miss your chance to join us for these exciting tour events that will include music, informational sessions, giveaways and prizes including Harley-Davidson®  leather jacket.
About the Pre-Season Open House Tour
This is a great opportunity to learn all about the 2019 Harley-Davidson motorcycle lineup, including the all-new FXDR 114. Each with a custom attitude and ride all its own. Explore the models and find your freedom machine.
Some of the featured bikes on the tour include:
Sportster 883 Iron – Wicked Red
Sport Glide – Midnight Blue
All-New FXDR 114 – Vivid Black
Road Glide Special – Industrial Gray Denim
Event dates:
[twocol_one]
March 6-8: Pulaski
March 12-14: Chievres
March 21-24: Vilseck
March 28-31: Ramstein
April 3-6:
Wiesbaden
April 9-11: Grafenwöhr
April 24-26: Boblingen
April 29-May 1: Baumholder
May 6-21: Italy
May 27-29: Spangdahlem
June 1-12: United Kingdom
June 17-19: Hohenfels
June 20-23: Ride the Alps
June 26-28: Ansbach[/twocol_one] [twocol_one_last]
July 2-4: Vilseck
July 9-11: Chievres
July 16-18: Grafenwöhr
August 9-11: Ramstein
August 13-16: Boblingen
August 20-22: Hohenfels
August 29-31: Wiesbaden
September 3-5: Baumholder
September 23-30: United Kingdom
October 14-21: Italy
[/twocol_one_last]
What's new 2019
The all-new FXDR™ 114 is a feast for the eyes with performance and attitude that's off the leash. Fast on the straights. Agile in the corners. Its Milwaukee-Eight 114 engine produces loads of torque and pure sound with a soul-satisfying rumble. It'll blow away your senses.

More power
Harley-Davidson® released the ninth engine in its history with the Milwaukee-Eight® sporting eight valves. This is the most powerful and most responsive engine ever offered by Harley-Davidson. The unmistakable look, sound and feel has risen to even great heights with the improvements made this year.

More infotainment
Welcome to the next generation of Harley-Davidson® infotainment standard on the Ultra Limited, Ultra Limited Low, Road Glide® Ultra, Road Glide® Special, Street Glide® Special and Tri Glide® Ultra models. It's available as a factory-installed option on the Street Glide®, Road Glide® and Ultra Classic® models.
There's even more beauty in the way it works. The super-tough edge-to-edge 6.5-inch glass touchscreen mimics the latest high-end automotive displays and its advanced surface treatment is designed to minimize reflection for better visibility in sunlight. It's waterproof, optimized for use with or without riding gloves and have Apple CarPlay compatibility.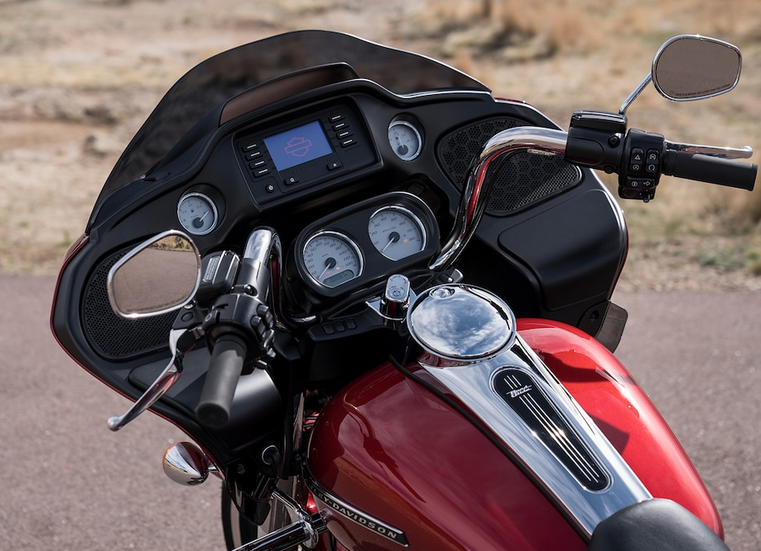 The Harley-Davidson® JUMPSTART™ Rider Experience (Available in the Spring)

You may have heard people say that there's nothing like being on a Harley-Davidson® motorcycle. Now, you can find out for yourself – even if you have no previous experience with motorcycles.
The Harley-Davidson® JUMPSTART™ Rider Experience combines a Harley-Davidson® motorcycle and a specially-designed, stationary support stand.
No knowledge or previous motorcycle experience necessary
Motorcycle will not tip over
You'll mount the bike, set your boots on the foot pegs and fire up the engine under the watchful eye of trained personnel. Give the throttle a twist and hear that unforgettable Harley® sound. Sitting comfortably on the bike, you'll continue to shift through the gears – all safely and securely attached to the JUMPSTART™ platform.