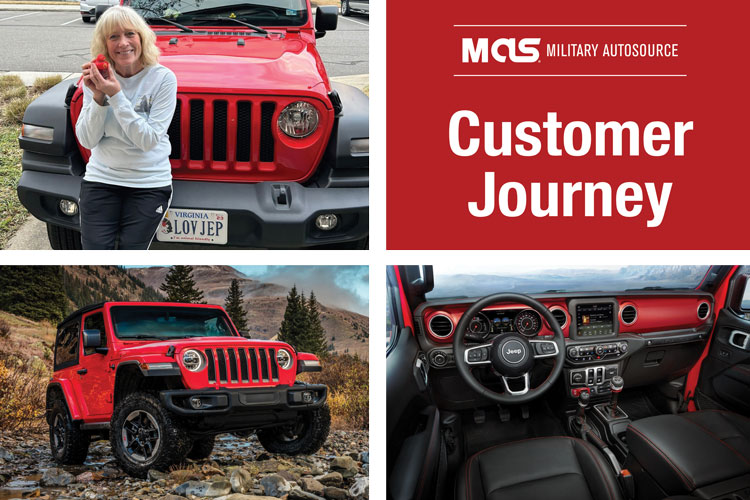 When you purchase a Jeep, you become a member of the Jeep family. There's nothing like the passion and excitement that defines the community. And finding adventure in everyday life makes Jeep life that much sweeter.
Owning a Jeep will give you the durability and reliability that dates back to its use in the military during WWII. So, it only makes sense to use your exclusive OCONUS military car buying benefits to purchase a Jeep from the company that has been serving our military for over 60 years.
Why do U.S. Military members choose Military AutoSource and Jeep? We'll let one of our most recent customers share her thoughts.
Military AutoSource Car Buying Review from a U.S. Military Member in Italy
Civilian contractor, William Darwin and his wife Troy purchased their Jeep while deployed overseas in Italy.
MAS sales representative, David Lynch, helped William and Troy order the exact car they wanted, a 2023 Jeep Wrangler Sport, for delivery when they returned stateside.
Now back home in Virginia, they have become hardcore Jeepers and participate in multiple local Jeep community chapters, greet others with a Jeep wave and can't resist Jeep ducking.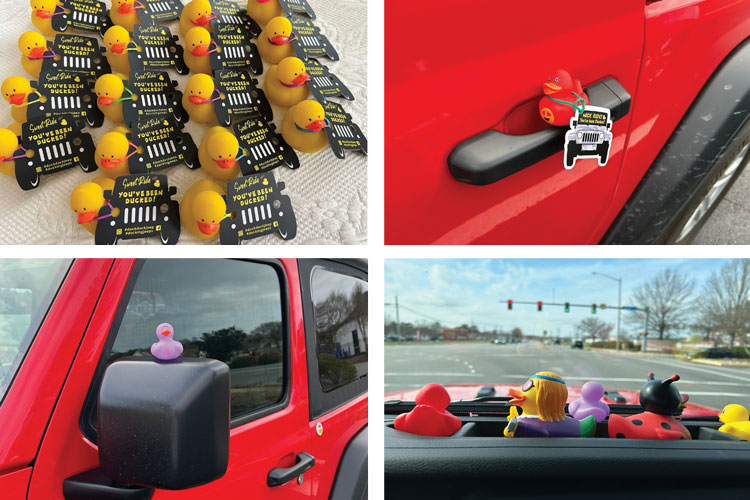 Troy had this to say about their experience buying through Military AutoSource:
"My experience working with David Lynch at Military AutoSource was great! We ordered my Jeep Wrangler Sport while still living in Italy, about a month before returning to the states. We moved back in October 2022, with my Jeep delivery date about January 10, 2023! Happily, it was actually delivered on December 1, 2022! This was awesome, and David kept me updated throughout the entire process.
Since then, I've been enjoying getting to know the Jeep family. Jeep Wrangler owners are really a family of fun people! The Jeep "wave" has been around forever! It's great waving to other Jeep owners when you pass each other on roads and highways.
The new fun trend is "Ducking" other Jeep Wranglers/Rubicon's/Willys. It started in Ontario, Canada during the pandemic. A Jeep owner wanted to make other Jeep owners happy, so she stuck a little yellow duck in the handle of the door. This activity is so fun, it's spread like wildfire all across the United States and Canada! I've seen posts from all over the country! You can buy your rubber ducks on Amazon!
I've also joined Jeep Girl Mafia, National and VA state chapters. Girls share stories about their Jeep adventures and there are actual meetings too! I also joined Hampton Roads Jeep Family (HRJF) and #duckduckjeep! It's all a lot of fun being a Jeep Wrangler owner!!"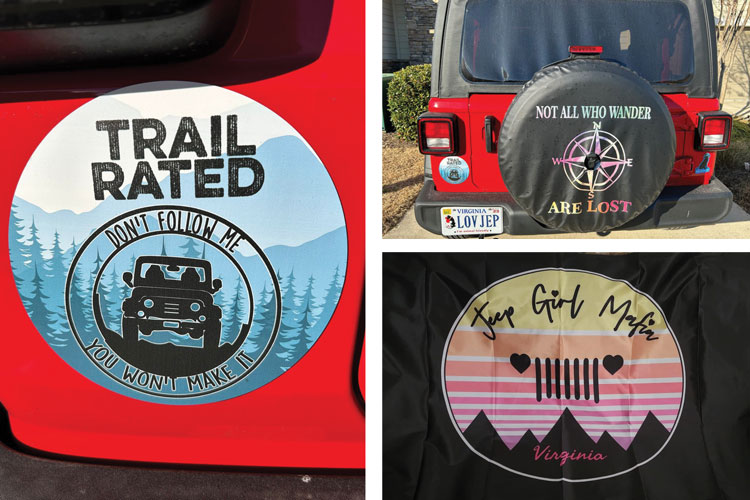 Thank you, William, and Troy, for sharing your experience. Enjoy your new Jeep and most importantly thank you for your service to the military community.
About Military AutoSource
Military AutoSource provides a factory-direct car buying program tailored to the unique circumstances and needs of military and diplomatic life. As the only DOD and Exchange authorized car buying program, MAS is the exclusive military distributor and retailer for Chrysler, Dodge, Ford, Harley-Davidson, Jeep, Lincoln, Nissan, Ram, Volkswagen and more.
Through our program U.S. Military stationed, deployed or on TDY as well as DOD contractors, civilians and the diplomatic community serving overseas can purchase a car for delivery in the US or to more than 50 overseas duty locations. Learn more about your overseas U.S. military car buying benefits.