'97% of our military families give us top grades.'

Five Star Review
"I've been working with Peadar Markey for almost two years now getting myself ready to have my new truck meet me at my next duty station. Arrived in Florida last night and went to the dealership today to check out my truck.
Things went so smoothly that it's actually been waiting here for me to pick it up for weeks. He's been just fantastic to work with, from setting up my order and pre-financing to have a substantial down payment, to getting me into a Certified Pre-Owned Vehicle while in Italy to trade in when I left. Everything has come together perfectly and every hurdle along the way was tackled professionally with a personal touch from Peadar. I saved thousands by going through this office to get my new truck and I couldn't be happier with the result!"
"Over 1 Million Service Members have used their exclusive car buying benefits with MAS."

Five Star Review
"Aoife was a WONDERFUL blessing to myself and my family. We weren't the easiest of customers I'm sure, as we were interested in a few vehicles, and she was so flexible and efficient with every question and concern we had. Once our vehicle was delivered, she was already in contact with the MVRO and within 4 days of delivery we were driving in our brand-new vehicle. On top of that, she had it beautifully detailed."

Five Star Review
"The Souda Bay Military AutoSource team played an essential role in making my PCS process flawless! After being stationed overseas for 4 years, MAS ensured I had a brand-new car delivered to my next duty station at the lowest price guaranteed!"

Five Star Review
"My experience working with David Lynch at Military AutoSource was great! We ordered my Jeep Wrangler Sport while still living in Italy, about a month before returning to the states. We moved back in October 2022, with my Jeep delivery date about January 10, 2023! Happily, it was actually delivered on December 1, 2022! This was awesome, and David kept me updated throughout the entire process.
Since then, I've been enjoying getting to know the Jeep family. Jeep Wrangler owners are really a family of fun people! The Jeep "wave" has been around forever! It's great waving to other Jeep owners when you pass each other on roads and highways.
The new fun trend is "Ducking" other Jeep Wranglers/Rubicon's/Willys. It started in Ontario, Canada during the pandemic. A Jeep owner wanted to make other Jeep owners happy, so she stuck a little yellow duck in the handle of the door. This activity is so fun, it's spread like wildfire all across the United States and Canada! I've seen posts from all over the country! You can buy your rubber ducks on Amazon!
I've also joined Jeep Girl Mafia, National and VA state chapters. Girls share stories about their Jeep adventures and there are actual meetings too! I also joined Hampton Roads Jeep Family (HRJF) and #duckduckjeep! It's all a lot of fun being a Jeep Wrangler owner!!"

Five Star Review
"I had a great experience with MAS (especially Aoife) while deployed to Sigonella in the summer of 2022. My timing to buy a new Ford truck was pretty rough dealing with the fallout of supply chain issues identified during the pandemic. But Aoife was very honest and helpful throughout the entire experience. She helped me build the exact vehicle I wanted and saved me money throughout.
Between the rebates and locking in at MSRP before Ford raised their prices again, I ended up with a great truck (and warranty) for a price much less than what the sticker would be if I were to purchase the vehicle stateside. Not only that, due to a delay in delivery (not MAS' fault), they knocked $600 off the price and were able to wire funds to my bank within two days.
I can't say enough good things about my experience, and I would definitely buy another vehicle from MAS Sigonella if I had the opportunity."

Five Star Review
"Mark was very knowledgeable and professional. He made sure that every detail was covered, and my vehicle was ordered exactly as I wanted it. Even after I left Djibouti, he was still responsive and engaged. A true pleasure to meet and work with."

Five Star Review
"Jason was the employee that helped me find exactly what I was looking for. Very knowledgeable about the cars he was talking about and if he didn't know something, he was honest opposed to making something up. He was patient and non-intrusive. At no point did I feel I was being taken advantage of or being lied to in order to make a sale. Every step was laid out ahead of time about the very "German car buying experience", making what could be a confusing process quick and painless.
If Jason was not around at the office, I was not hindered or prolonged in the processes, Chris and Billy were able to pick right up in his place to keep me headed in the right direction or providing necessary documentation. This is a fantastic team of individuals, and you will be very fortunate letting them put you in your next car."
Five Star Review
"Aoife was fantastic to work with. The car buying was straight forward, and Aoife walked me through every step of the way. After the car was ordered and I was back stateside after leaving Italy, she kept me in the loop with where the vehicle was at in the process and when we would expect delivery. Couldn't recommend MAS and Aoife more. From the simple no haggle process to the extended warranty MAS offers, there's no better car buying experience."

Five Star Review
"Great benefit for service members! Ordered vehicle before returning to US. Prices didn't have markups which is what is happening stateside. I was kept informed throughout the ordering, build, and delivery process."

Five Star Review
"I would recommend this to any deployed service member in the market for a new vehicle. The salesman was honest and straightforward to begin with. I went back and forth between vehicles and options and he was happy to help with any changes or quotes I requested while I finally chose the vehicle I wanted.
Stayed in communication with them through my deployed time and also when I returned home. Once financing was handled the process was smooth at the end. Overall, it was a good car buying process."

Five Star Review
"Andrew Carey at MAS is the BEST!!! During one of the most stressful times of my life, he made buying my new 2022 Jeep a breeze. I had already been told that buying a new car back in the states was difficult, and that it would take months for it to arrive. I messaged him at 9pm one night, and he responded. We set up the appointment and that's how my new Jeep was sitting waiting on me to arrive!!
Andrew was the most professional, responsive person I have ever worked with. He got me exactly what I wanted. I landed at my next duty station, and went directly to the dealership. When I arrived, my Jeep was out front waiting for me.
Easiest transaction when buying a new car that I've ever had in my life. Trust me, you want Andrew Carey to help make life easy for a change. Thank you, Andrew for making life easy!!!"

Five Star Review
"This is definitely the best program for a service member to purchase a vehicle or motorcycle. This is my second purchase, and everything was smooth and simple. My experiences have been nothing but great. The MAS rep worked closely with me when I had to keep changing my delivery dates because of my deployments being extended."

Five Star Review
"Wanted to take a moment to talk about my experience with MAS. I was unexpectedly in the market for new truck while deployed. I heard about MAS from my fellow service members and was able to meet Ruairi Campbell when he came aboard our ship with less than a month before the end of our deployment. My situation was unique In that I needed a new car quickly upon return to the states, and I was in the market for a specific type of truck.
Ruairi was great at explaining how the process worked and the timelines involved. At the time I didn't proceed with ordering new car as I would need one much sooner than what MAS and the manufacturers could offer in the current market.
However, what Ruairi did was take my Information and remained on the lookout for the type of truck I wanted. When another customer had to cancel, Ruairi saw it, reached out to me, and we started the process.
In less than 72 hours we had arranged everything to purchase the truck. Ruairi was in constant communication and helped me through the entire process. In less than a week I had the truck I wanted at a price that cannot be beat in the current market.
This buying experience was quick and fast, and it shows what MAS can do in the current market environment to help out a customer.
In the end this really came down to Ruairi, his commitment to his customer and work ethic to see it through was amazing. I really appreciate the time and effort Ruairi took to put me a vehicle. I would recommend Ruairi and MAS if you are a service member overseas looking for a new vehicle."

Five Star Review
"I had an incredible experience buying a car from Aoife. She made the process smooth, easy, and painless. Aoife was incredibly responsive to all my questions (during and after work hours!) and understood my urgency to get a reliable vehicle quickly. I have been driving my new car for two weeks and it really has changed my outlook on life in Sicily. I no longer have to worry about my car breaking down on the way to work or during a road trip. Highly recommend MAS and Aoife!"

Five Star Review
"This has been one of the best and smoothest car buying experiences I've ever had. Anytime I had a question, or there was an update on the order, I was given an answer right away. Aoife Guinan is a professional in every aspect of the job. It was a pleasure working with Aoife and highly recommend her as a top sales representative."

Five Star Review
"Military AutoSource Chievres On Base location has amazing customer service. I had a great experience buying a new car with them. The staff gave me their full attention throughout the process, from configuring the car to dealing with admin. David is the best! He makes the process smooth and is very accommodating. I will absolutely go back for my next car!"

Five Star Review
"I worked with Jason Land on the purchase of two vehicles and it was, hands down, the best car buying experience I have ever had. Amazing service, very knowledgeable on the VAT process and all the intricacies of buying a car overseas. Jason made it easy. Highly recommend!"

Five Star Review
"This isn't the first time we have bought a car from Military AutoSource. Always had a great experience, but this time it was an AWESOME experience.
From the time we actually went looking for a Jeep, to the time we got everything done and ready to go it only took 3 weeks! It's all because of Miss Aoife, she is wonderful! She understood the situation immediately and helped us find exactly what we were looking for. Her availability on every little question we had made the process extremely easy..and quick!
I am super happy with Military AutoSource but honestly, AOIFE YOU ARE THE BEST! Thank you so much for all the help and how you handled everything with such knowledge and professionalism. 5 stars well deserved!"

Five Star Review
"I had the pleasure of working with Andrew and I couldn't be more pleased with how the whole process went! Andrew listened to what I was looking for and was honest without trying to push a car on me. If I had questions, he was super quick to respond and never made me feel like I was asking a dumb question. I really appreciated that Andrew cared about my experience as a car buyer. If you're looking for a great deal on a car plus quality customer service, look no further than MAS Naples and Andrew!"

Five Star Review
"I reached out to Bob Beck at the 11th hour before PCS'ing back to the States and he was amazing. The communication was consistent even as I returned home to the states up until I received my vehicle. Bob treated me like family and with so much care, and I can't thank him enough. This process was stress-free and felt effortless. Thanks Bob!!"

Five Star Review
"It was actually an excellent experience. A lot of support from the staff, so I appreciate everything you guys have done for me. The actual delay was not in your control. Waiting for parts to come in and the car's production was delayed, but again it was well worth the wait. Very very happy with my new Ford Bronco, and I can't wait to experience it on the island."

Five Star Review
"I had inquired online about a 2022 Bronco Sport and had gotten a call immediately from MAS. Aoife explained everything over the phone and we set up a time to sit down and chat. She was extremely knowledgeable and not forceful in trying to get a "sale" like most dealers. She made sure I was making a sound decision with what I wanted and gave me all options regarding the vehicle I wanted. Once we completed all the paperwork, she kept me updated on the vehicle shipping status and answered any questions I had in the meantime. Upon delivery, she made sure the process was smooth and seamless. Very professional. All in all 10 of 10 experience. If you are interested in getting a car, I highly recommend speaking with Aoife here at Sigonella NAS 2 Military AutoSource."

Five Star Review
"I'm the only person on Oahu with a 4 door hardtop! That says something. Everyone is having such issues getting theirs, somehow, with a late order, I got mine ahead of so many and it has all the options that are delaying most people's orders!"

Five Star Review
"If you're in the KMC area, eligible, and in the market for a new car, it is your duty to seek out Billy Murphy at MAS Kaiserslautern! I walked in looking for a 2021-22 Audi A5 but they didn't have one on the lot configured the way I wanted. A brief search confirmed that there were no A5's at the Prestige trim level in the MAS inventory in Europe so I left somewhat disappointed.
Billy called me within 24 hours and he had found one almost exactly spec'd the way I wanted it. He went the extra mile and earned my business! Additionally, he walked me through the purchase and registration process in a way that made it stress free and seamless. Buy a car from MAS through Billy Murphy, you won't be disappointed!!"

Five Star Review
"I asked Mr. Anthony King if such a platform existed within MAS to leave a customer comment card and I was pointed in your direction. I believe often times feedback is only given when someone does something wrong or comes short, so with that I would like to submit a comment in Mr. King's favor. I've worked with Mr. King since 2015 and in that time I've bought two cars from him and both times he has exceeded my expectations as a sales representative. So much in fact that I could've used an MAS rep in Spangdahlem, but I reached out to him in Japan. He is always quick with a response (even on weekends), reliable, and I've never had even the slightest inconvenience with him. I always recommend specifically him to my co-workers. I look forward to getting my new 2022 SRT Hellcat here in a couple months."
Five Star Review
"Can't recommend this service enough, especially in a time when NO ONE gets below MSRP! Andrew Carey and the MAS staff are phenomenal. Highly recommended and my new vehicle was delivered ahead of expectations, as configured."
Five Star Review
"I first met Hakan at a community event on base and was immediately impressed with his knowledge, friendliness, and professionalism. He quickly told me about all the benefits of MAS, such as pressure free sales, worldwide shipping, manufacturer rebates, custom vehicle builds, and best price guarantee. Hakan spent hours with me explaining my options and helping me choose the right vehicle. When I needed to customize my order after I PCS'd, he did that with no problem, and over the next several months he provided me with constant updates and support. There was a slight hiccup with delivery when I arrived in Germany, but Hakan instantly made it right. When I did get my vehicle, it was in perfect brand new condition. I could not be more happy with the whole experience and I can't recommend MAS Incirlik enough. Thank you, Hakan!"
Five Star Review
"I just want to tell you how much I LOVE my Bronco Sport! I was nervous about buying a new car but didn't realize how hard the US is being hit in the car industry at the moment. The dealer told me he had zero Bronco Sports in inventory, let alone the 2022 version, and hadn't seen the Badlands edition in 10 months. When I drove the car to my house, all of my neighbors from the 5 houses around me came out to see my car to ask where I bought it. One person has already offered to buy it 10k over asking. I would HIGHLY recommend anyone to use this service returning to the states in the midst of the COVID crisis. I can't imagine having to fight and overpay for a car coming back. It was the easiest and most convenient process for buying a car I've ever had."
Five Star Review
"I would like to say that I gained a friend working with Oliver "Ollie" Johnson. He's more than a car salesman. He was attentive, understanding, and was great to work with."
Five Star Review
"Bob and Lefty were patient and understanding with what ended up being nearly a year and a half long process, but he stuck with me and helped me get the car I wanted, a 2021 Ford (Big) Bronco. Also, a shout out to Rainer in Germany for pushing the paperwork through as fast as the Germans would allow it. I was able to have an amazing trip to bring Beast home by driving across Europe with their support and understanding of the long and at times frustrating process from Ford – Thank you guys!!"
Five Star Review
"Hey guys, Steven here from Military AutoSource Lakenheath Commissary. Today I've got another special delivery for one of my customers that ordered this car back in March time. He special ordered it exactly the way he wanted it. It's going to be his first time seeing it today so I'm going to wrap it up, cover it up and he's on his way to come see it. This is Noah, this is his new car that he's ordered from us here at MAS. It's his first time seeing it, going to unveil it now and see what he thinks. We ready, 3,2,1. Congratulations guys this is your new Jeep Wrangler"
Five Star Review
"As first-time buyers, the couple custom ordered Jasmina's dream vehicle direct from the factory, a 2021 Jeep Wrangler Rubicon. Johnathan worked with Chris to keep the updates on their Jeep a secret so he could surprise Jasmina. Oh my god, I can't believe it. This is amazing. Thank you so much!"
Welcome To The MAS Family!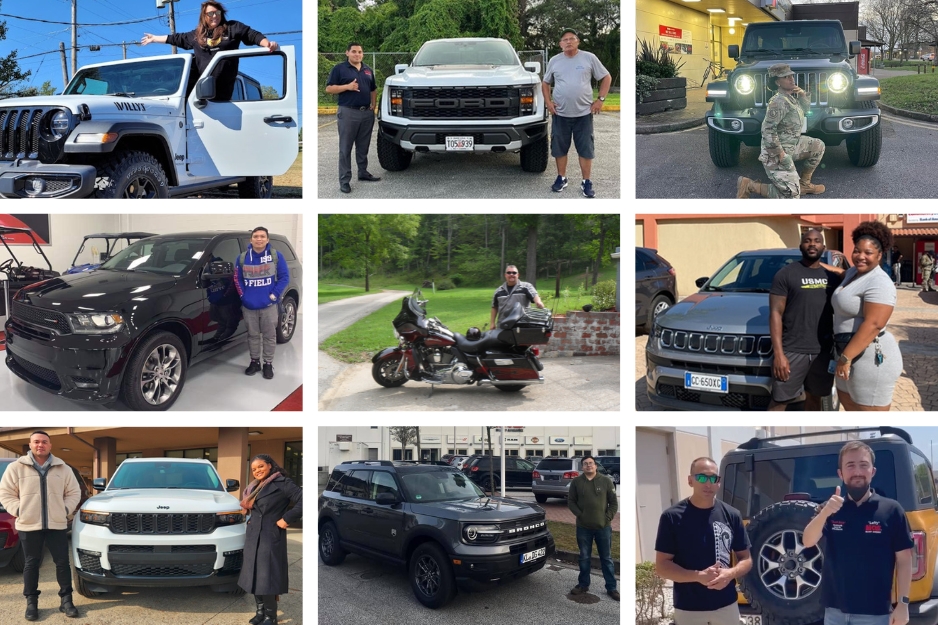 97% of our military families give us top grades based on PSB Research branding study, 2015.