Last year, we sponsored two Operation Homeward Bound Contests, in partnership with Ford. This one-of-a-kind contest gives our U.S. Military personnel stationed or deployed overseas a chance share their story explaining why they deserve to win a $2,500 Delta gift card so they can fly home for the holidays or important family events on us. We selected another winner this past Fall and we're very excited to share her story.
With over 400 entries Brianna Rico from Okinawa was selected as our winner. She is a military spouse having a hard time acclimating to life overseas during her first overseas duty assignment. Her neighbor, friend and fellow military spouse Aleshia Loftis nominated Brianna for this contest (read her full entry below). I also want to give a big thanks to Jeff Bradshaw and his team for organizing an amazing presentation of the $2,500 Delta Gift card live on AFN. Brianna was brought to the radio station with Aleshia under the pretense of doing a show on Military Spouses and the difficulties adjusting to overseas life. Check out the heartfelt video of the presentation below. Plus to recognize Aleshia paying-it-forward with her selfless and kind act we surprised her with a $500 Delta Gift Card.
The entire marketing team is grateful to be a part of something so amazing and it furthers shows our commitment to enhancing the lives of our U.S. military community serving overseas.
Pictured with Brianna from left to right are: Jeffrey Bradshaw, MAS Regional Sales Manager in Okinawa, Brianna Rico, her friend and fellow military spouse Aleshia Loftis and AFN radio announcer, Cpl Anika Lewis.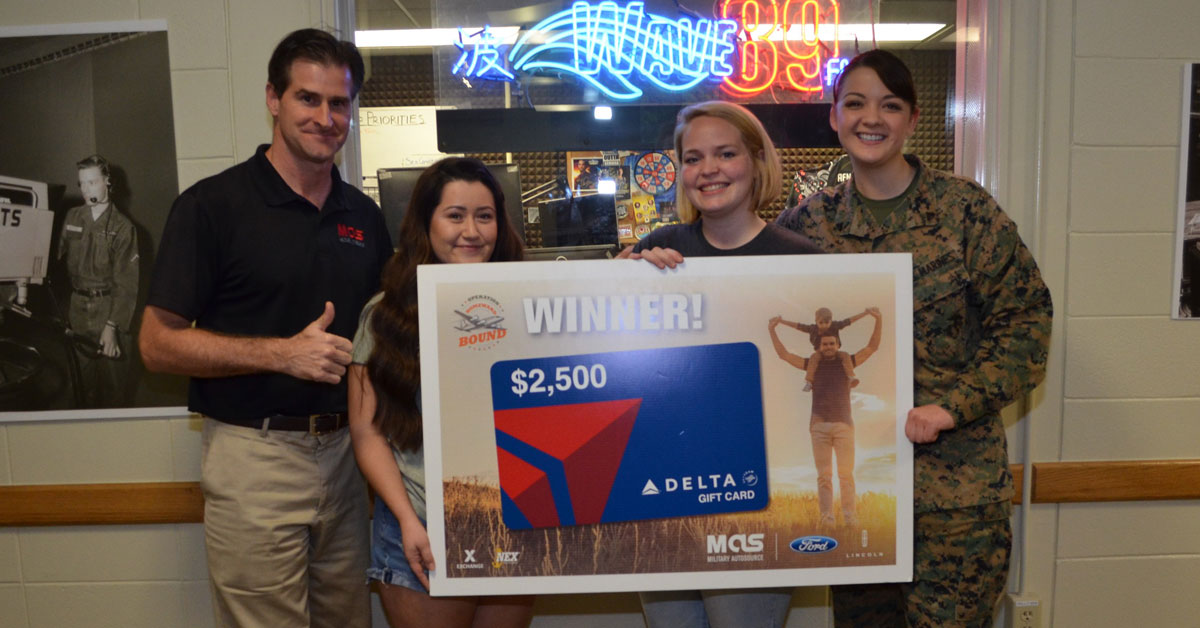 Check out the AFN presentation on our YouTube channel https://www.youtube.com/watch?v=81Rup0J29w4 and also shared on our MAS corporate Facebook page: https://www.facebook.com/USMilitaryAutoSource/
Aleshia's Winning Essay:
"Stationed overseas can be so hard for even the most seasoned military spouse. We've been stationed here over 2 years and it's been over a year and a half since we've visited home! My daughter was even born here and has never been stateside or met any of her stateside family. However, this isn't about me, this is about my neighbor. We recently had new neighbors move in that are adjusting to not only overseas but their first duty station ever! We love them and have tried our hardest to show them the amazing things available in Okinawa and all the resources available to military and their spouses. However, Brianna, the spouse, is having a really really difficult time adjusting to being away from family. She is such a wonderful kind hearted person, I'd love nothing more than for her to have this opportunity to fly her and her 4 year old daughter back home to visit for the holidays. I know it would bring so much joy to them to see their family and hopefully be enough to get them through the months after we PCS in April and they have to readjust to their only friends leaving. I know thousands will enter this contest, but please, choose Brianna Rico, she deserves it more than anyone. Thank you."