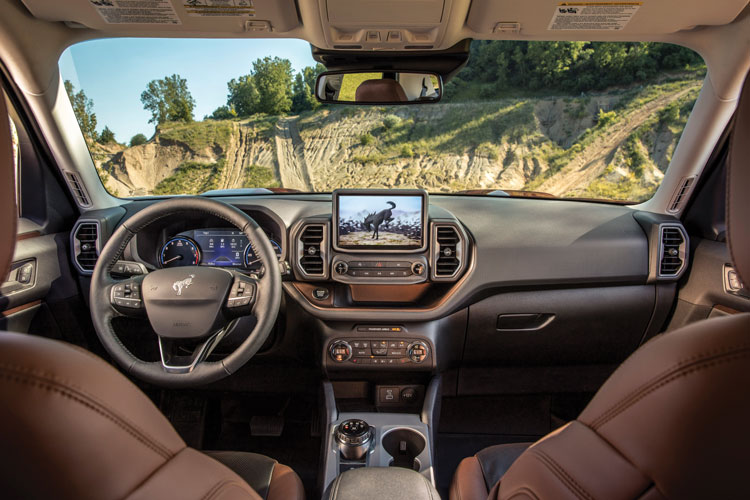 Why is the Bronco Sport so popular?
The Bronco Sport blends a rugged-looking SUV with standard four-wheel drive and impressive off-road prowess. It's also easy to handle, and comes loaded with sought-after tech and safety features. One of the most enticing features inside the Bronco Sport is its built-in smart technology. The Bronco is built wild and ready to hit the trails and handle many different terrains with user-friendly tech features assisting you every step of the way. Here are the top five technological features that provide added safety and security behind the wheel.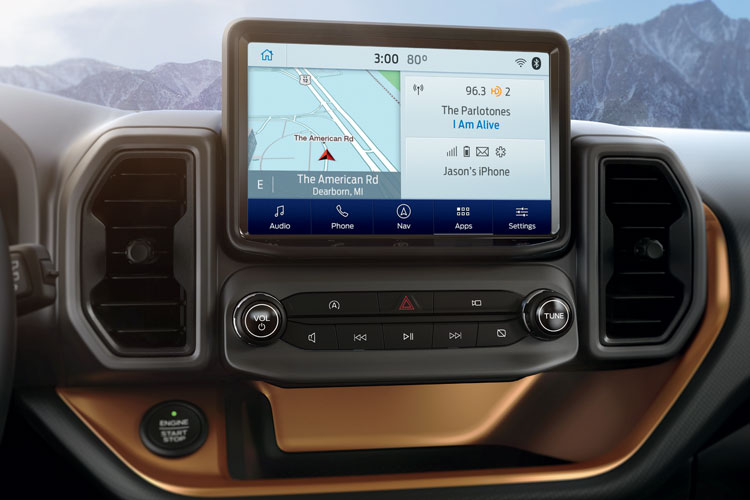 1. 8-in Touchscreen
Connect your apple or android products and access your apps on the go including, maps, weather, music, podcasts, and more conveniently displayed on this screen to make your life easier.
Sync 3 – Keep your eyes on the road while using voice-activated technology to respond to calls or texts in the most user-friendly way possible.
Trail view camera – a 180-degree camera to project the trail ahead and help you avoid potential obstacles with built-in washers that can help clear the debris on your camera to keep your sight of the trails, clear.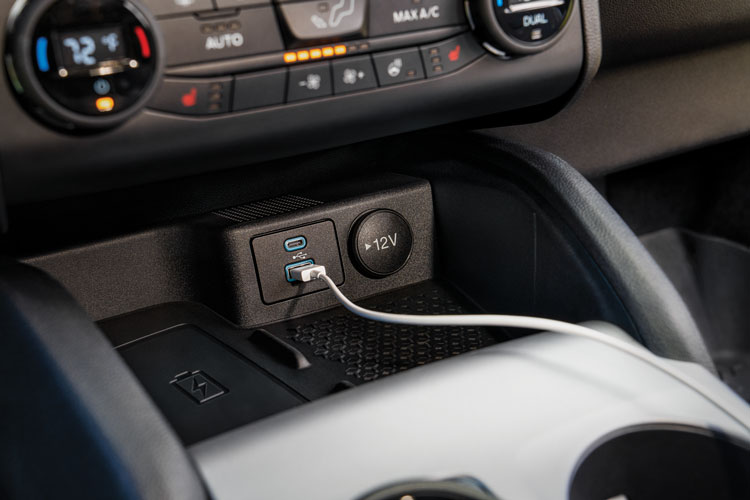 2. Wireless Charging Station
Keep your phone fully charged anywhere you go. While this feature is not compatible with all mobile devices, it also has a USB port to charge your phone as an alternative.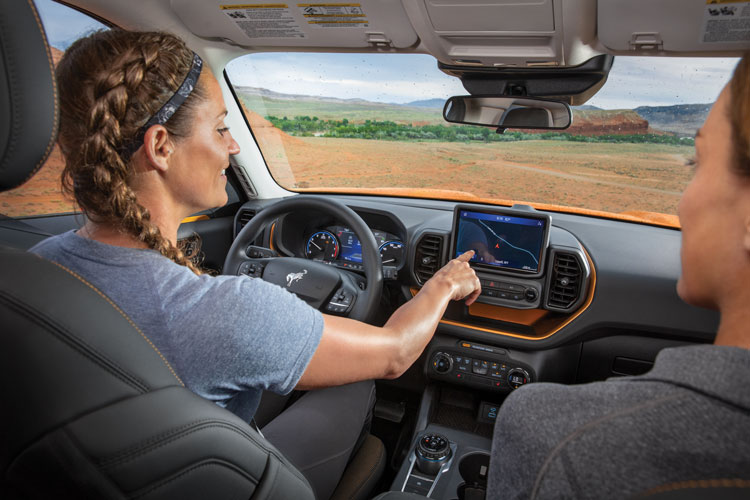 3. Breadcrumb Navigation
One thing you see in many cars and trucks nowadays is GPS. The Bronco takes it to a new level with an enhanced GPS. While going on the trails with the Bronco, you do not have to worry about getting lost as you can use the normal GPS to try and find a way out, but it also remembers the way you took to get there and will show you how to go back and get out the same way you came in. That's the virtual breadcrumb trail that allows the Bronco Sport to lead you out of the trails quickly and easily.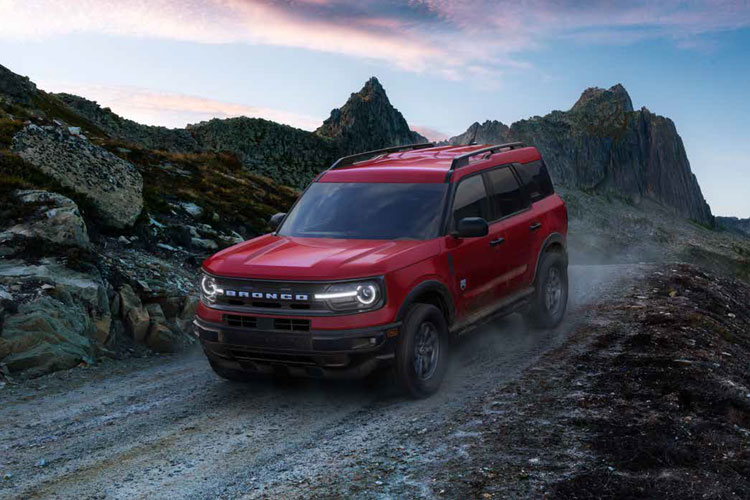 4. Ford Co-Pilot360™
Offers a suite of features to help keep you in command behind the wheel. This includes:
Auto high beam headlights: It will turn on in poor lighting areas but don't worry about distracting other drivers with your high beams as they can sense other headlights facing your car and will automatically turn off your high beams.
Blind spot information system: It lets you know what and who is in your blind spot while driving and also helps you back out of a parking spot detecting the traffic behind you and behind the cars parked next to you.
Lane keeping system: Detect the lines on the road and will alert you if you start to drift into another lane. Not only will it continuously alert you, but it will also tell you that you might want to pull over after you have drifted a couple of times over a certain period of time.
Pre-collision assist and automatic emergency braking: scans the road in front of you and will alert you of any possible collisions whether it be with another vehicle or pedestrian.
Additional features include rear view camera, adaptive cruise control, pre-collision assist and a 5-year trial subscription to SiriusXM traffic.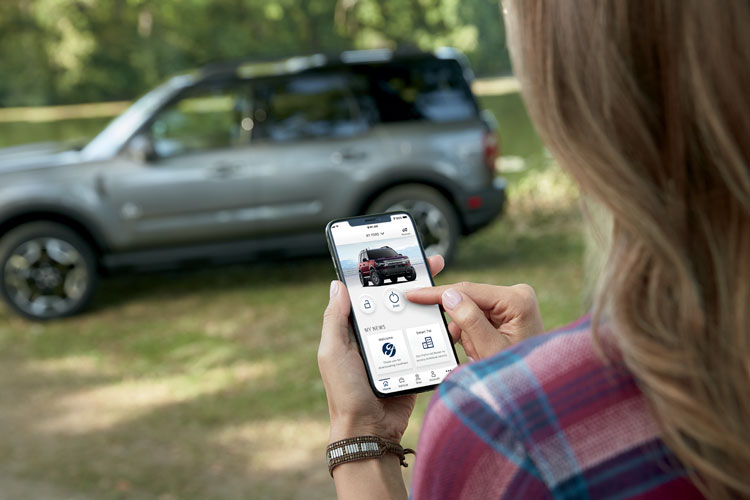 5. Fordpass™ Connect
Stay connected with your vehicle and be stress-free wherever you are. You can schedule a remote start, locate your parked vehicle and check your vehicle status all on the Fordpass app. From the touch of your fingers, you can check your car's gas level, miles until service is needed, how many miles your vehicle has, etc.
The technology in the Bronco Sport takes it to the next level, from wireless phone charging to pre-collision assist. It will make your life easier in more ways than one. So, saying the 2021 Ford Bronco is user-friendly is an understatement. It's time to get out on your next adventure. Learn more about how you can reserve a Ford Bronco with your overseas US military benefits for overseas or stateside delivery.