Download the free 2016 Ford Military Review Magazine to be the first to learn about our 2016 Ford line-up. The Review Magazine shows the complete line-up offered by Military AutoSource, the Exchange authorized dealer of Ford and Lincoln vehicles to active U.S. Military stationed overseas.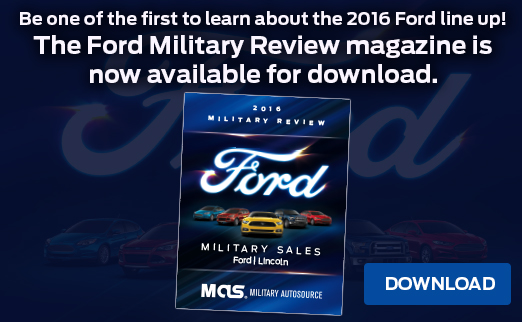 U.S. Military deployed overseas are eligible to receive military discounts, rebates, and benefits on Ford vehicles when they purchase through Military AutoSource. As the official overseas military car-buying program for Ford, we have provided our military customers with superior value, service and convenience for over 50 years.
Factory Direct Hometown Delivery allows military to order a Ford or Lincoln at special pricing while stationed overseas, and take delivery stateside. Military AutoSource will deliver your vehicle to your local dealer, no matter where you live. Delivery is also available at overseas duty stations.
All Ford vehicles purchased through Military AutoSource comes with our Lowest Price Guarantee. We'll pay you the difference if you get a bona-fide offer with a lower price from a franchised dealer in the Continental U.S. or Puerto Rico for the same vehicle, delivery date and location. We'll give you up to 14 days after delivery to submit your claim.