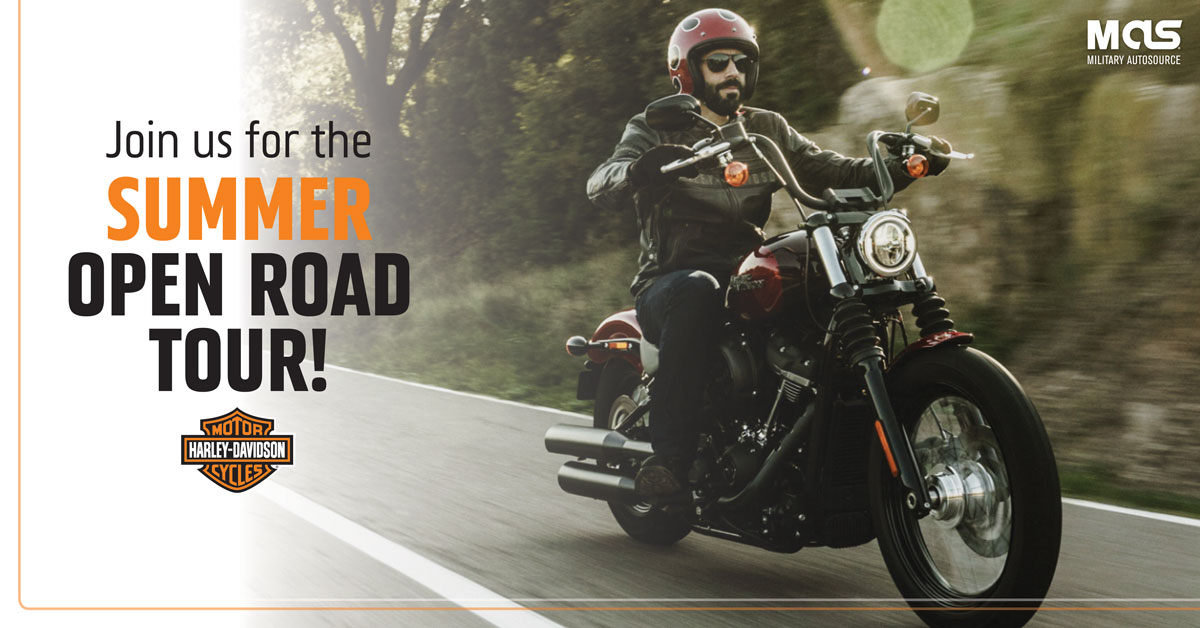 Calling all free spirits and Harley-Davidson enthusiasts! Military AutoSource and Harley-Davidson have partnered up to bring you the Summer Open Road Tour. Our Tour began in July and will continue all the way until December.  Explore our lineup of Harley-Davidson models including the all-new Sport Glide! This is your chance to grab life by the handlebars and start your next adventure!
Stop by for some old fashion family fun and come see what it is like to ride a real Harley-Davidson with the Harley-Davidson®  JUMPSTART™ Rider Experience – combining a Harley-Davidson motorcycle and a specially-designed, stationary support stand.
No knowledge or previous motorcycle experience necessary.
Motorcycle will not tip over.
You'll mount the bike, set your boots on the foot pegs and fire up the engine under the watchful eye of trained personnel. Give the throttle a twist and hear that unforgettable Harley sound. Sitting comfortably on the bike, you'll continue to shift through the gears – all safely and securely attached to the JUMPSTART™ platform.
Ready to try it out? Stop by our next Summer Open Road Tour!
Dates and On Base locations of our Summer Open Road Tour:
July
11-13-Chievres
16-19-Wiesbaden
24-26-Spangdahlem
August
1-3 –Vilseck
7-9 -Böblingen
21-24 –Hohenfels
29-31 -Grafenwöhr
September
6-9 -Wiesbaden
13-15 -Ramstein
October
8-10 -Vicenza
11-13 -Aviano
22-24 -Mildenhall
25-28 -Lakenheath
November
5-7- Vilseck
8-10- Grafenwöhr
14-16- Boblingen
26-29- Chievres
December
6-8- Ramstein
12-14- Spangdahlem
19-21- Wiesbaden
Can't wait? Want to price check the Harley-Davidson of your choice? No problem!