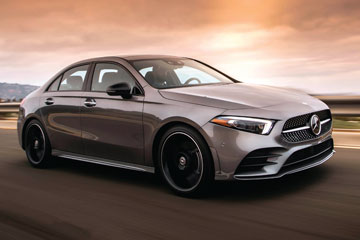 Experience a new era innovation, design and performance.
Innovation

A is for advanced. With the new Mercedes-Benz User Experience (MBUX), the A-Class drives a new generation of user-friendly tech. Quite possibly the most capable, natural and intuitive speech interface from any automaker, it's easy to learn because it learns you.
With a touchscreen in the dash, a touchpad on the console, and Touch Control Buttons on the steering wheel, the A-Class cockpit is as easy to use as your smartphone. Just scroll, swipe and select from illustrated menus on the dual dash displays.
Next-generation assists are available to help de-stress driving: Change lanes with a tap of a turn signal. Adaptive cruise can help steer, stop-and-go in traffic, even slow for an offramp. Safety sensors can help protect your hearing before a crash.
Design

A is for attention-getting. The clean lines, LED lighting and aggressive stance of the A-Class are designed to capture admiring eyes. Its ultramodern cabin and premium appointments aim to captivate its driver and passengers for years to come.
The toned physique of the A-Class Sedan is all-new, but its details are iconic. The famous Star anchors the wide, subtly forward-leaning grille. In profile, it's clean and perpetually fresh, honed to slice through the air and the clutter of other cars.
Performance

A is for athletic, agile and active. With turbo power, seven speeds, four drive modes, and three suspension options, the A 220 and all-wheel-drive A 220 4MATIC Sedans turn 188 horses and 221 lb-ft of torque into rapid response and full-time fun.
DYNAMIC SELECT lets you fine-tune your A-Class with the tap of a console button. Four modes vary shift points, throttle response, steering feel and more: efficient ECO, everyday Comfort, sharpened Sport, and create-your-own Individual.
Lightweight, agile, variable-torque 4MATIC® adds to your driving confidence, from winter's wrath to cornering fun. It can send power from the front to the rear wheels of the A 220 4MATIC instantly and expertly in response to available traction.
Take advantage of your military benefits to own this amazing new vehicle!